Dusty western streets lined with aged buildings hinting very strongly at a bygone time.
Characters in period dress move through the streets as if they've returned home from the present day. That was the Arizona PPA Fall Fest this year organized by AZPPA and headed up by board member Bruce Roscoe of Alayna Photography. Bruce created a calendar with this great bunch of actors and arranged to share their talents during this event. There were five instructors, ten actors and thirty-five photographers in action, learning, sharing and generally having a good time.
I gotta tell you if you live in Arizona, are a photographer and not a member of Arizona PPA you are missing out on education, networking and building lifelong friendships with those of a like mind.
But, I digress just a bit. Here's an image created after the sun sank (sunk?) below the horizon of the 'haunted church' done at the end of the street.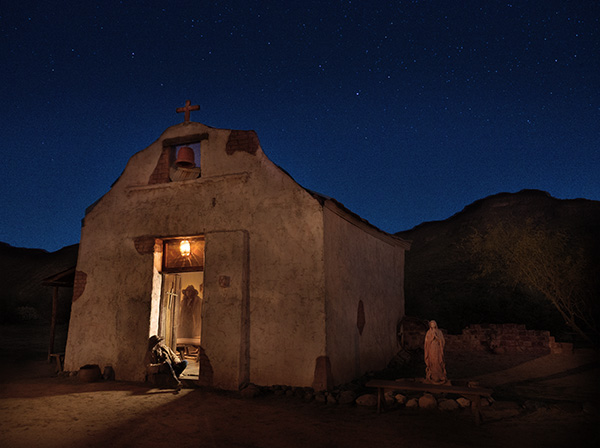 This was 'Filo' one of the actors posing during a light painting exercise held at the end of the day. Lumix GH4 with a 12-35mm f2.8 lens was mounted on a tripod and a series of bracketed exposures was made of the church scene followed by Filo being lit in various positions. Images were then striped together to have our actor studying up on his ethereal image inside.
If you are not in Arizona there is probably a Professional Photographers of America Affiliated group not too far away from you. You can check the list. I travel around the country and have spoken to many of these groups and I can tel you that the education acquired from being a member and participating as a volunteer can help you grow your photography business.
Lots of photographers suggest that they can get all the photo education they need from  the web and online tutorials. I beg to differ there's no beating live in person education and if you are not already a member of one of these organizations I encourage you to at least visit for one or two meetings. You be glad you did!
Yours in Creative Photography,    Bob
PS – The event was help at Canyon Creek Ranch and should you find yourself in central Arizona it's a place you might want to check out!