Find me 'On the Road or online' presenting photography seminars at the following venues. None near you? Contact me if you have a photography group and need a speaker. Let's chat! Look below for current bookings. Further down the page to see some of the programs available. Need a special program? Call me to discuss possibilities.
"Bob's presentation style is approachable, conversational, and down to earth, making it obvious how much time he has been on stage. This makes it enjoyable and accessible to understand and implement his content-rich workshops & presentations.
Bob is a dream to work with and book. He has everything you need to promote him to your group before you even say yes–program title, description, bio, portraits, examples of images, and everything else you often have to waste time trying to track down.
Even after Bob has left, his encouragement and help doesn't stop. He follows up with anything he has promised, like sharing additional information, and continues to interact and support our community with social interactions.
He is well known throughout Tennessee for his great presentations, workshops, judging as well as just love and support."
Colby McLemore – M. Photog., Cr., CPP, TCD, TSD, ACE – Colby's Photos & Videos
"I knew I was going to like Bob within five minutes. Not only is he charming and open with information, it was immediately obvious that he knows his stuff. I'm a techie type myself, and in this age of only partially qualified photographers, Bob easily proves with his ideas and his command of equipment that he's a master of craft with depth of experience. On the leading edge of digital skills many years ago, he continues to be a person I look to on the edge of current techniques, equipment and creativity in the service of the client."
Sara Frances – photomirage.com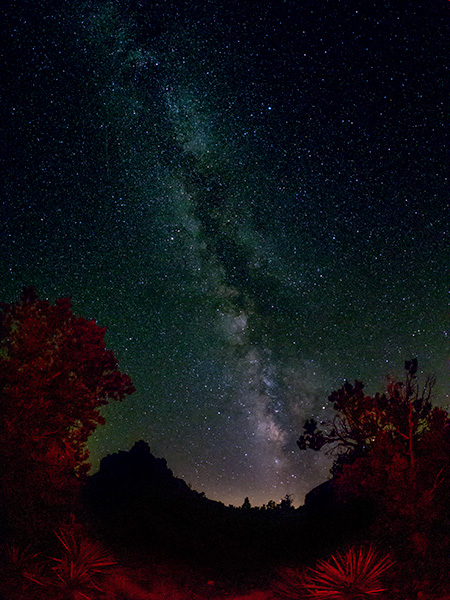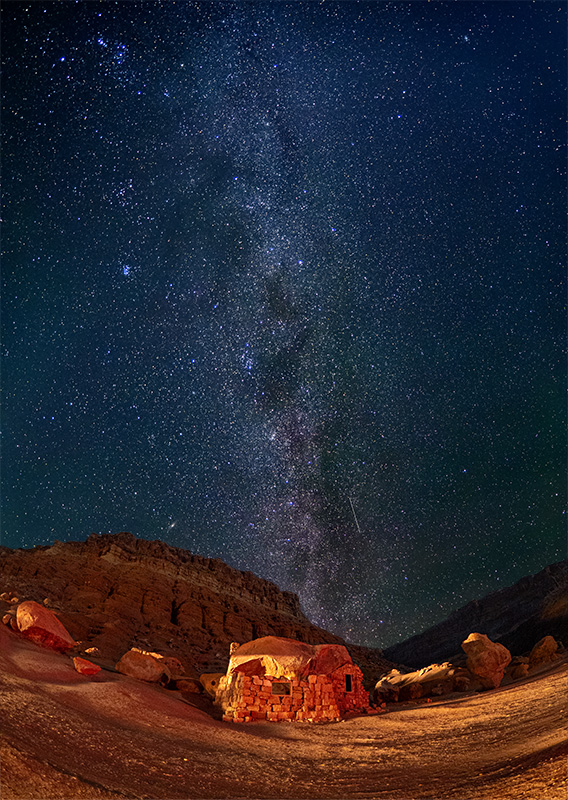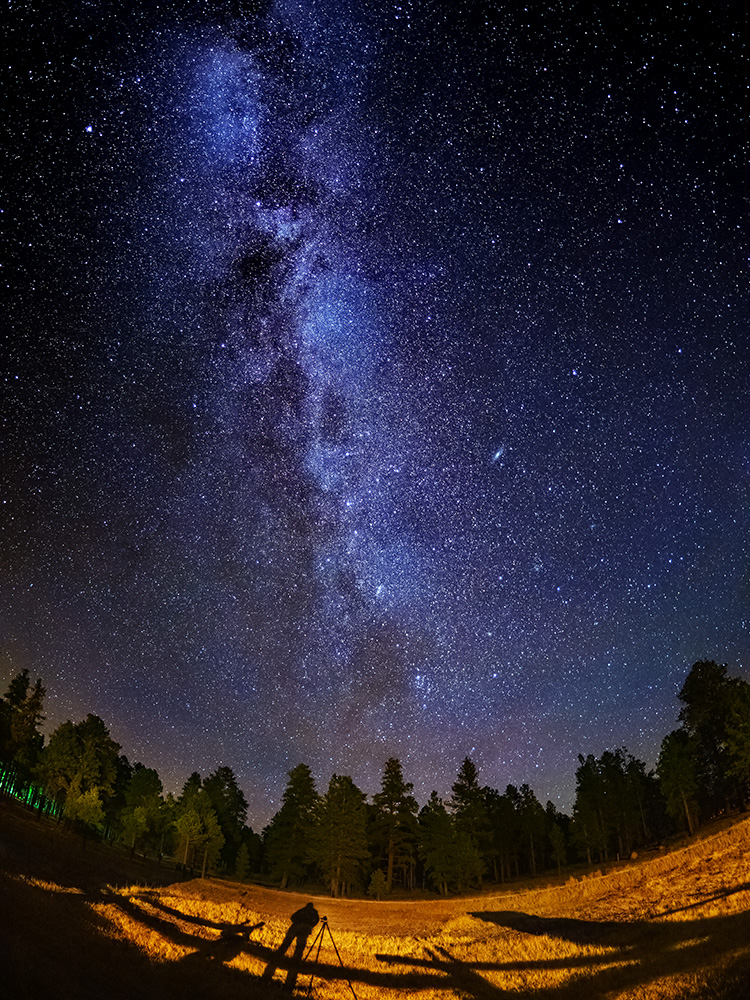 How about a day of online photo education for only 29 bucks?  9AM – 4PM September 30, 2023

It's the "Vitual" Photographic Summit. I'll be one of the four speakers.
SPEAKER LINE-UP:
Cheryl Belczak (NY)  – "Still Life & Easy At-Home Photography"
Bob Coates (AZ)  – "Nature, Landscape & Wildlife: Pre-Capture to Post-Processing"
Ken Fisher (UK)  – "Photoshop Advanced Techniques & Tools"
Hazel Meredith (TN)  – "Post-Processing with Plug-Ins"
This online Summit will run from 9 am-4 pm (EDT) and be recorded so you can watch/re-watch all the sessions for 60 days (till 12/1/23). Includes Speaker's Notes, Virtual Goodie Bag & Great Door Prizes!
Check out all the details and Register at: https://meredithimages.com/product/1st-virtual-photographic-vision-summit-bc/
Questions? Contact: [email protected]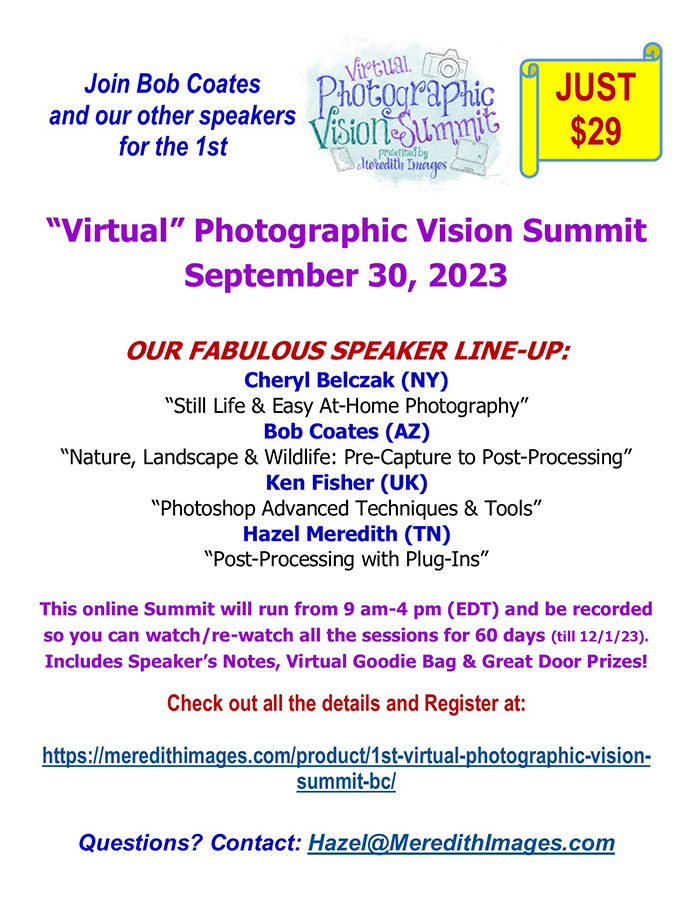 Sedona Milky Way & Night Sky Photography Workshop – October 12-14, 2023

Join Successful-Photographer Bob Coates for an exploration of the red rocks and night skies above Sedona, Arizona.
Photography of the night sky and Milky Way Galaxy is an exciting use of your camera. I liken the capture of wonderful Starscapes to playing a four dimension board game. There needs to be an interesting foreground to place before the magnificent night sky. Multiple techniques are utilized to capture the elements which are then processed to make the final image.
Bob will help you improve your night photography whether you are just getting started or beginning to push the boundaries of the genre. Learn more and register…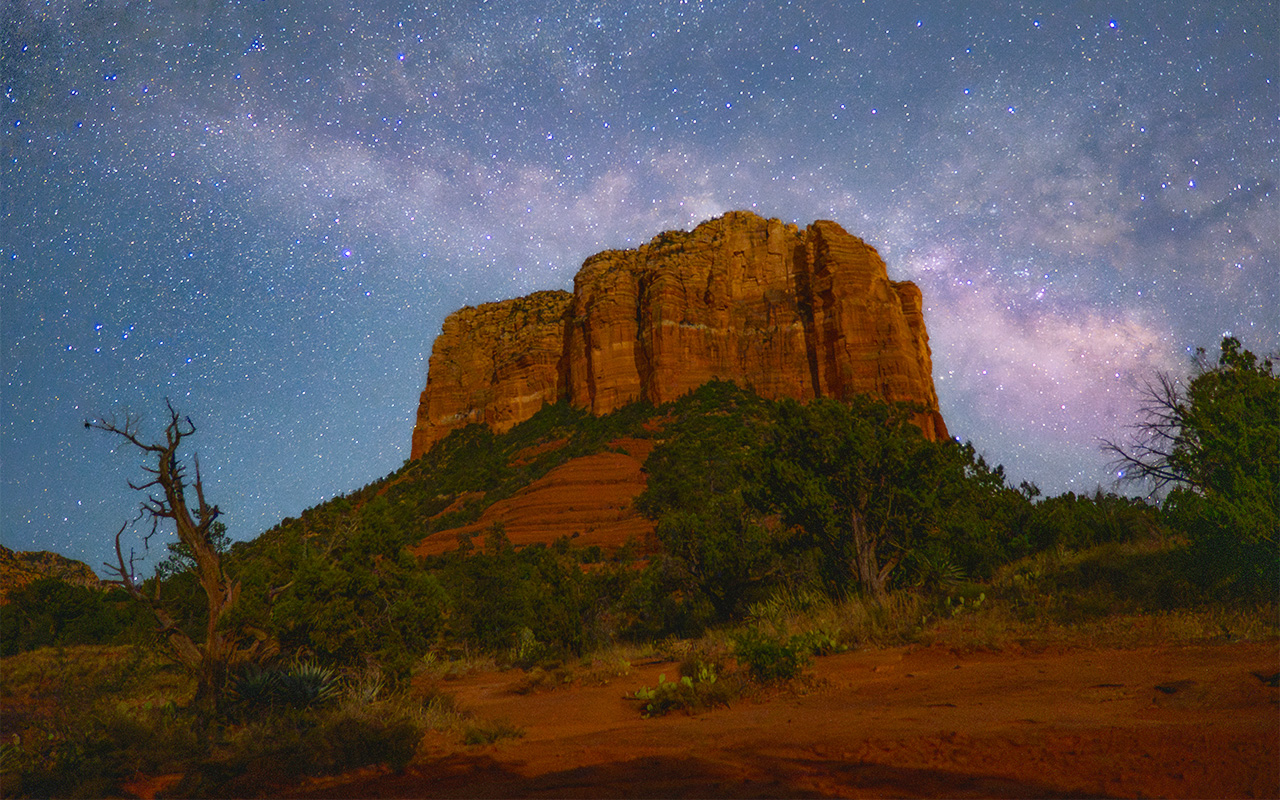 Arizona PPA – June 4, 2024 6PM until… Milky Way and the Night Sky Program
Ability360 5031 E Washington Street Phoenix, AZ 85034 Free to members and 1st time visitors $45 for return non-members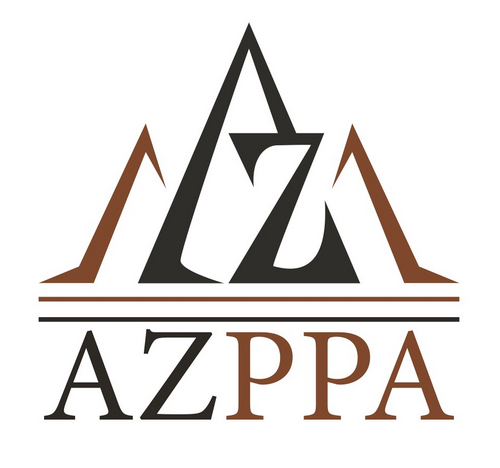 Photography of the night sky and Milky Way Galaxy is an exciting use of your camera. I liken the capture of wonderful Starscapes to playing a four dimension board game. There needs to be an interesting foreground to place before the magnificent night sky. Multiple techniques are utilized to capture the elements which are then processed to make the final image. There are APPS to help find where, and when the Milky Way will appear. When are the best times to attempt Milky Way captures. APPS to get a handle on the weather and level of clouds. We'll look at those APPS and take a walk through processing the images. To the naked eye the Milky Way is a wisp of clouds. Our cameras, with long exposures and larger apertures allow us to capture more of the depth and beauty of the Galactic center.
There's more to the night sky than just the Milky Way so we'll also take a look at how to capture star trails and time lapse of the night sky.
Bob will help you improve all of your night photography whether you are just getting started or beginning to push the boundaries of the genre.
Weather permitting after the education presentation we'll head out to the Superstition Mountains to put the skills to use.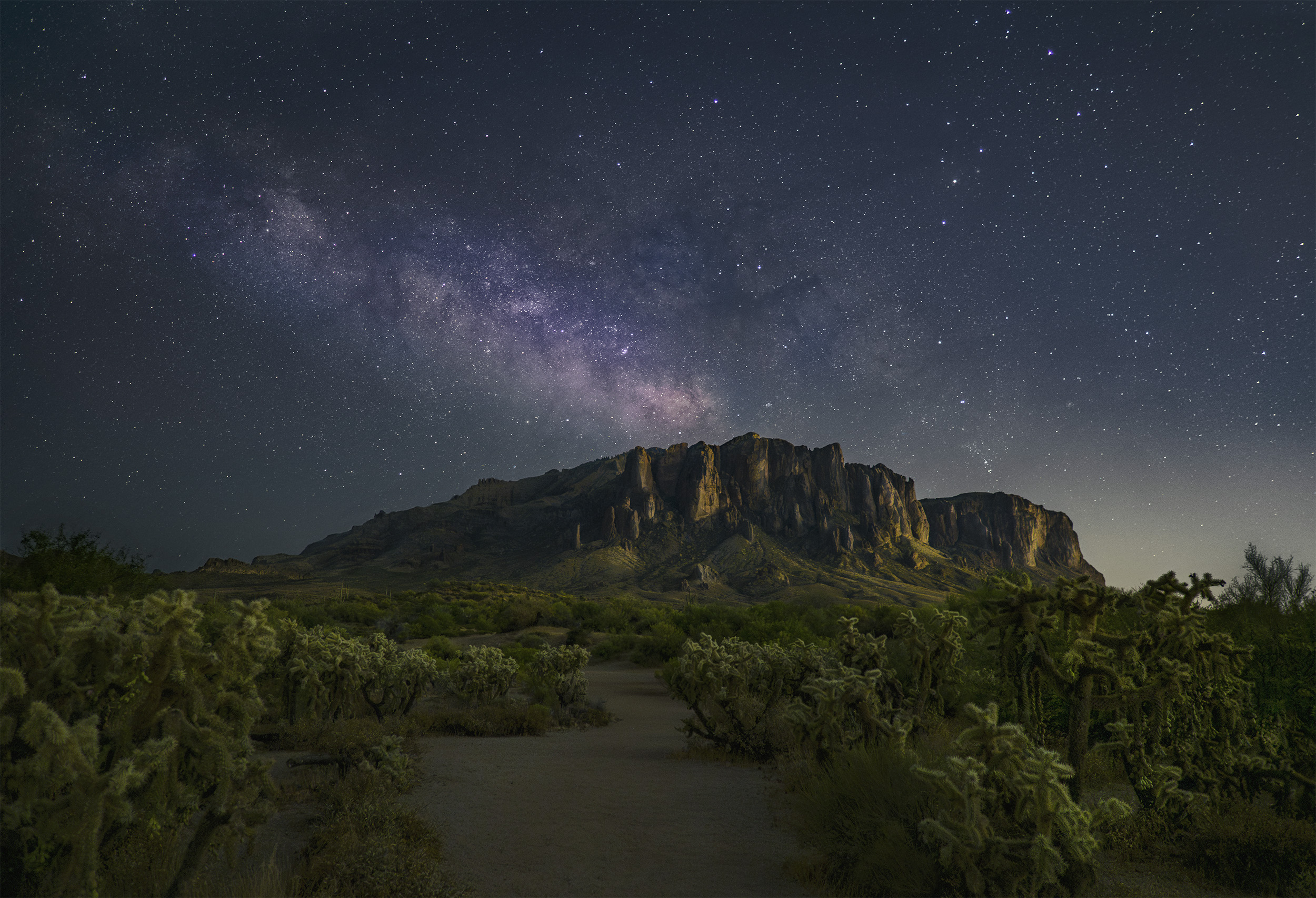 Photography Programs, Seminars and Webinar Subjects
Night Sky and Milky Way Photography
Photographing the Milky Way is akin to playing a 4-D board game. There are lots of moving parts in play when capturing the night sky. The sun, moon, and Milky Way are all moving. The Galactic Center is the star of the solid Milky Way photograph. But, where will it be? At what time? How will you know in advance where to set up your camera for the best results? Coates shares ideas and concepts that will remove the mystery of the heavenly bodies photo shoot. This class is best served by having an overnight event but can also be broken into sections as needed.
Afternoon of the first day will be focusing techniques, pre-planning the shoot using PhotoPills and how to think through getting the foreground to work with the Milky Way Galactic Center. Ways to shoot still images as well as time lapse. Exposure settings for best results will be discussed.
Then, it's out for dinner on your own followed by heading out to capture images. Photographers will be putting their daytime lessons to use and will be on their own to execute the lessons shared during the day.
The next morning will be creating images and learning processing ideas to get the best results from the night sky. While our cameras can pick up lots of detail in the night skies, images need some massaging to show all the starry treasures in the file. We will learn about making selections in Photoshop. Different areas of the images need different techniques and how to apply them. Often, the landscape needs to be processed separately from the stars.
Want to come to Sedona, Arizona for a Milky Way and Night Sky Photography Workshop? Learn more here!

Nature, Landscape and Wildlife – From Pre-Capture to Post Production and Fine Art in Wildlife Imagery
I'll be sharing the thought process on how I capture and process Landscapes, Wildlife and Nature images. Starting with the thinking behind gathering images and the final output the conversation will cover gear used and why. I favor micro 4/3rds camera and lens systems of Panasonic and Olympus. (but all techniques shared can be accomplished with any camera system) Camera supports can be of great help when making multiple exposures for panoramic, focus stacking and exposure bracketing image capture. Who knew that a tripod could help with camera artistry?? I'll be showing how to leverage imaginative uses of Platypod and Fotopro tripod supports. Once images have made it to the sensor more creativity can be applied using software, Adobe Photoshop, NIK and Luminar and other filters and techniques. Stepping through post-processing including extractions, blending and artistic touches will be demonstrated as well."
"Bob,  I had a great time at the class today.  Thank you so much for coming and giving so much to all of us.  So much information… so applicable to my photo business.  Absolutely loved it all. The way you teach is very special. You have an excellent mix of talking about the info, then, before you overwhelmed us all, you stopped, opened Photoshop and explained it again while you actually did it on the computer. That and mixing in the beautifully timed humor just made the day fantastic."

Leveraging Today's Technology for More Creative Images
We have more creative tools than ever built into our cameras. Apps to give us info before we get to a location. Weather information to help know where better image possibilities await. Camera gear is becoming lighter, faster and sharper than ever. Technology is making it possible for making more Creative Images than ever before. We can now remotely control the camera via wifi and see what the camera is seeing. Pull large still frames from 4K and 6K video, pick focus after the fact with focus stacking, create Time-lapse videos in camera. Capture an image after something has already happened. (I know it was hard for Bob to believe too!) Intelligent Auto can determine the subject matter and give pre-programmed settings so you can concentrate on composition. Let's not forget post-processing techniques to work on the images after capture. It's a great time to push the envelope! Bob will share how he's combining the new tech from Olympus Cameras, Adobe Photoshop, NIK Filters, Luminar and Aurora 2019 HDR software.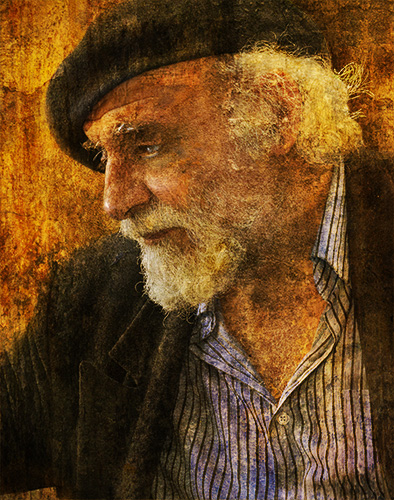 Fine Art Photo-Synthesis
Taking your images to another level is one way to set yourself apart from other photographers. Bob has chosen to move his images to a more-painterly feel. He accomplishes this by fusing many images together utilizing a single subject blended with many textures from nature, decaying made-made items and everyday items found through serendipity. The result is an image that has depth and dimension and will often reveal different things to the viewer no matter how many times it is seen. Coates now refers to himself as a Lens Based Artist as all source material comes through a camera lens then all bets are off. This class is a walk through Photoshop and photography creating art.
See more of that work on Bob's site here. coatesart.net
Personal Projects – Why, How… And how to make Money by doing them.
You got into photography because you liked it. Enjoyed the challenge of creating new images… Then you turned it into a business and photography wasn't quite as much fun anymore. Marketing, sales, building websites, printing, framing, retouching started to suck the joy right out of your life. Personal Projects can get you juiced again and help your business too! Bob will show you how he used these ideas to make photography fun again and earn money while you are at it. This is a program of creative ideas and techniques along with simple business marketing. They go hand in hand to help put your business back on track to the joy you first felt before you turned photography into a business.
Professional Photographers of America Approved Juror
Bob has been an image judge for state, national and International Photographic Competitions for over a dozen years. "It's been an honor and priviledge to share my thoughts on other photographers work. It's a big responsibility which I don't take lightly."
"In addition to being exposed to new work and techniques while judging I learn so much at each event. Having to justify your thoughts, either positive or negative, about a makers work makes you dig deep. Hearing other jurors concerns and joys about an image also informs the way I think about the work. The whole process helps me to understand more about my own work while performing a service for the industry. I call that a win-win."
"I have observed Bob judge print competitions numerous times over the years, and in each instance it was obvious through his insightful critiques his strong dedication to the craft. Bob has a way of motivating the image maker through his comments without a denigrating tone. I have also seen Bob listen carefully to his peers on the judging panel and clearly defend his evaluation of an image, while at the same time remaining open to adjusting his score where it was warranted. Bob's articulate voice, professionalism, experience and true love for photography and teaching makes him stand out as a talented and respected judge."
Bob Zimmerlich – Sienna Art Portraiture
"I have had the pleasure of sitting on judging panels with Bob on many occasions. He has the talent required to properly evaluate an image from a technical point of view as well as the sensitivity to express his appreciation of images that appeal to the heart and soul of the viewer. Bob is an articulate and disciplined juror, which is why I am confident in offering my opinion of Bob's judging skills. Bob can do the job!"
Rick Avalos – M.Photog.Cr. PPA Approved Juror – Portrait Artist, Avalos Fine Portraiture