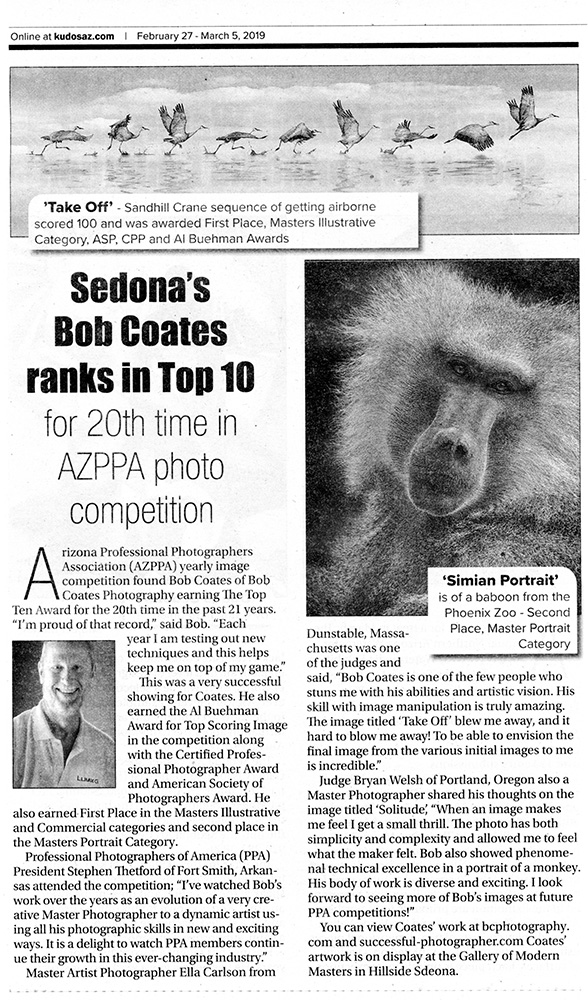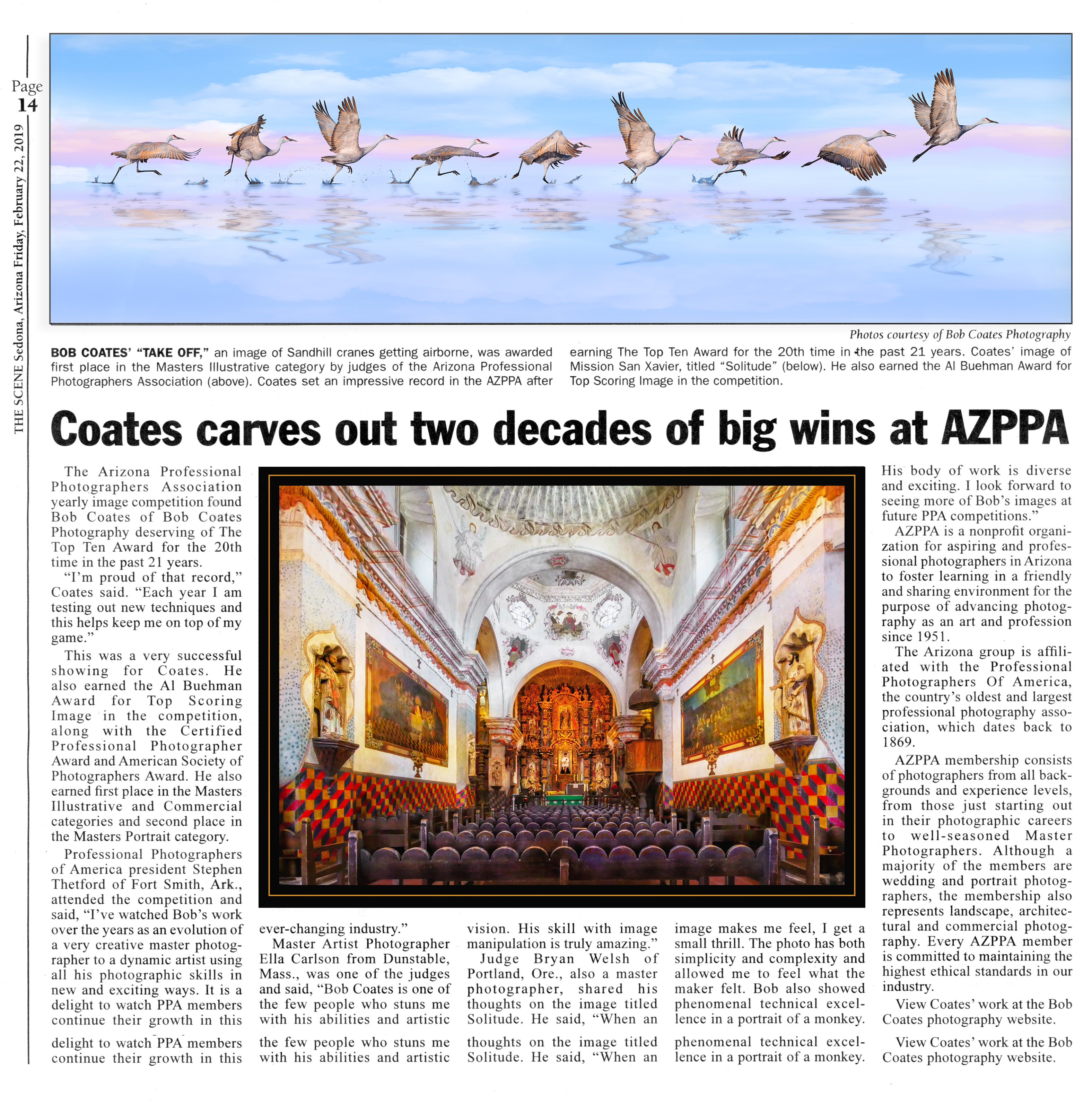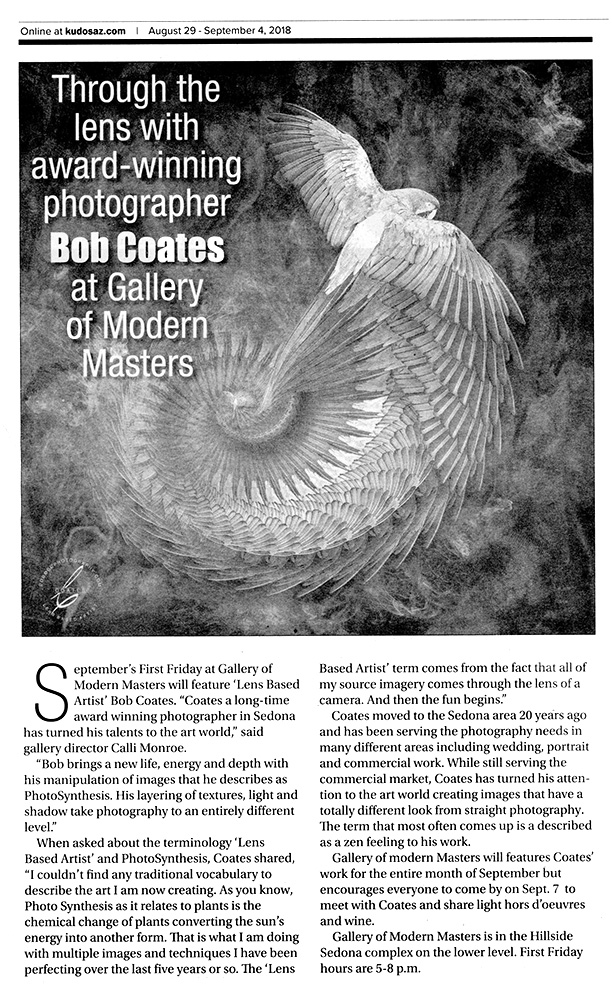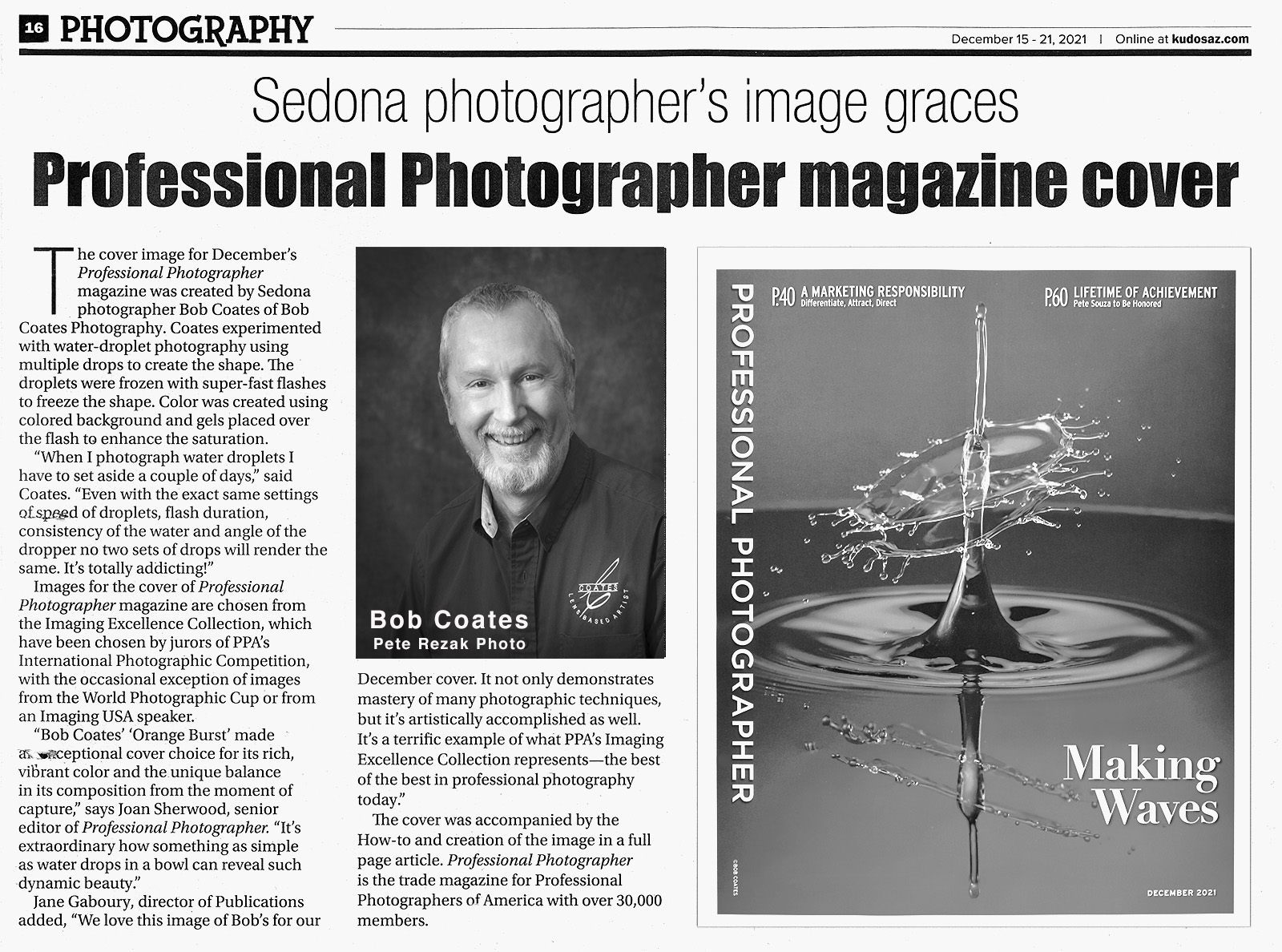 This page contains printed press garnered by Bob Coates Photography, Inc. through sending out press releases. See the text below from an actual release so you can read the writing style that editors want to see. There are two ways to garner press through a release.
• One is to send a very short press release that will garner attention and cause the media to want to contact you to write a story. This would be for larger media like national magazines and larger city newspapers. Tougher to get into these media as competition for space is larger and the story has to be of interest to a larger body of people. You need a compelling headline and just enough info to woo the editor to want to do the story. A press release in this form should be no more than one page including contact information and should contain lots of white space for the editor to make notes.
• The second way is to write a complete story for the media in which you are trying to get published. This must be written in the third person and should have quotes from other people and yourself and be as if someone else wrote the story about you. Why the difference? Smaller local papers and many regional magazines are feeling the pinch and tend to be short staffed. They are in need of well written content. When an editor is on deadline and has a certain amount of space to fill and he or she is looking at a well composed article ready to paste into the space… Well you get the idea.
• Make sure you send art with your press release along with captions. This could be a photograph of you receiving an award, you know a grip and grin type of image. Or, it could illustrate your press release in some way whether it be images that did well in competition or illustrating some part of your story. Use your imagination! You are a photographer after all. Good art can carry the day in getting you more column inches in the media and attract more attention when your release is printed. Also include a standard head shot.
Sample Press Release for International Image Competition.
The 2013 Professional Photographers Association International Imaging Competition was held in Atlanta, GA and Sedona resident photographer Bob Coates had a great showing
Sedona Photographer's Work Goes to International Exhibition
Bob Coates Photography is honored by peers and jurors for high-quality photography.
Sedona, AZ—Seven photographs created by Bob Coates Photography of Sedona have recently been accepted into the Collection of Professional Photographers of America's 2013 International Photographic Competition. Three images were accepted into the General Collection and an additional four images were added to the prestigious Loan Collection. Coates' work will be on display at the Phoenix Convention Center, January 12-14, 2014, in Phoenix, AZ. This International Photographic Exhibition is held in conjunction with Imaging USA, an annual convention and expo for professional photographers and several photographic associations.
A panel of forty-three eminent jurors from across the United States selected the top photographs from nearly 5,000 total submitted entries at Gwinnett Technical College in Georgia. Judged against a standard of excellence, just over 1,800 images were selected for the General Collection and just 682 (a little over ten percent) were selected for the esteemed Loan Collection—the best of the best. The Loan Collection images will all be published in the much-anticipated "Loan Collection" book.
This is Bob's first time submitting images to earn his Master Artist's Degree. This degree recognizes superior photographic competence demonstrated through photographic competition, advanced education, and service to the profession. "I'm very excited about this year's results," enthused Coates. "To have four of my images make it into the Loan Collection in one year is amazing! I've been on panels judging Loan prints and I know how hard the judges are on accepting them. I'm honored."
Coates' prints titled Parisian Artist, Bobcat Jack, Arles France, Cathedral St. Pierre, Creekside Inn, Iris and Jim will be in the International Photographic Exhibition alongside other top photographic works from the competition and traveling and special invitational displays. These images constitute one of the world's largest annual exhibits of professional photography gathered simultaneously under one roof.
'Creekside Inn' is a commercial image. Owner Mark Charlesworth said, "In addition to photographing the rest of our property Bob created the signature image for Creekside Inn. In the time before we had that photo we were pulling mediocre numbers online. As soon as the image was placed online our conversions went up. Additionally we used the photo as the header on our web site and on our business cards from which we constantly receive compliments. I'm not surprised the image did well for Bob, I know it has for us."
Affiliated Juror Jon Johnson of Wheelersburg, Ohio was on the panel that judged 'Iris' who explained, "This image meets all of the twelve elements looked for in image competition including impact, and color harmony with the composition masterfully done. There's a good reason this image was accepted into the PPA Loan Collection!"
Another Loan Collection image was 'Arles France' taken on a riverboat cruise throughout the south of France. Juror Joan Genest from Laguna Niguel, California said, "Starting with a good capture Bob was able to enhance the image a huge amount using textures. Additionally by adding warm tone color in various places he is able to lead your eye around the image area. I enjoy this image as an art piece."
About Professional Photographers of America
Professional Photographers of America (PPA) is the largest international non-profit association created by professional photographers, for professional photographers. Almost as long-lived as photography itself, PPA has roots back to 1869. It has never stopped growing and looking for new ways to assist its now 26,000 members through protection, education and resources for their continued success in the industry.
To view more of Bob's photography go to www.bcphotography.com and successful-photographer.com
#          #           #
For More information contact Bob Coates  – Cell 928-300-0535 [email protected]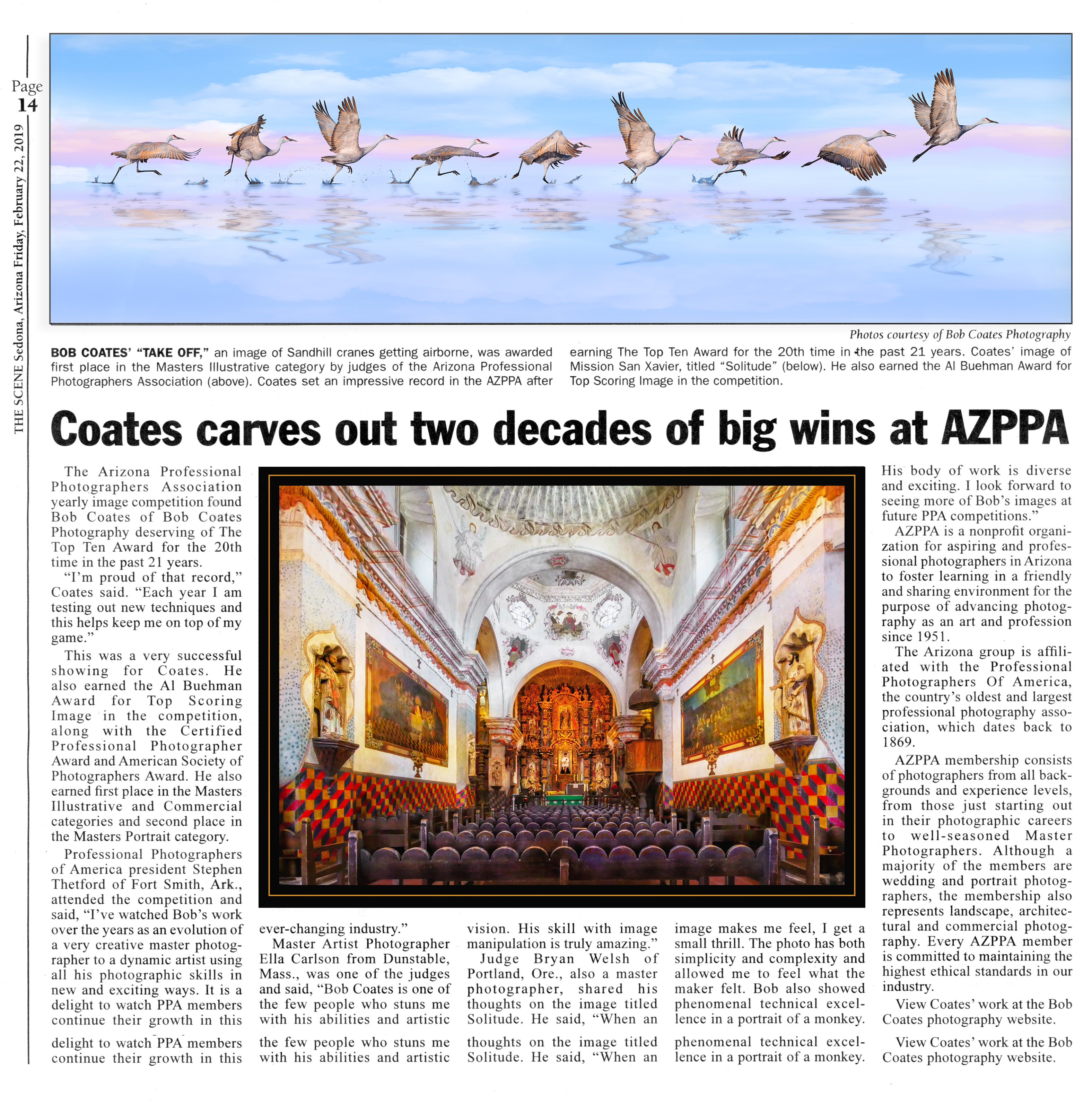 'The Scene' entertainment section of Sedona's Red Rock News. Highlights twenty years of award winning photography  by Bob Coates.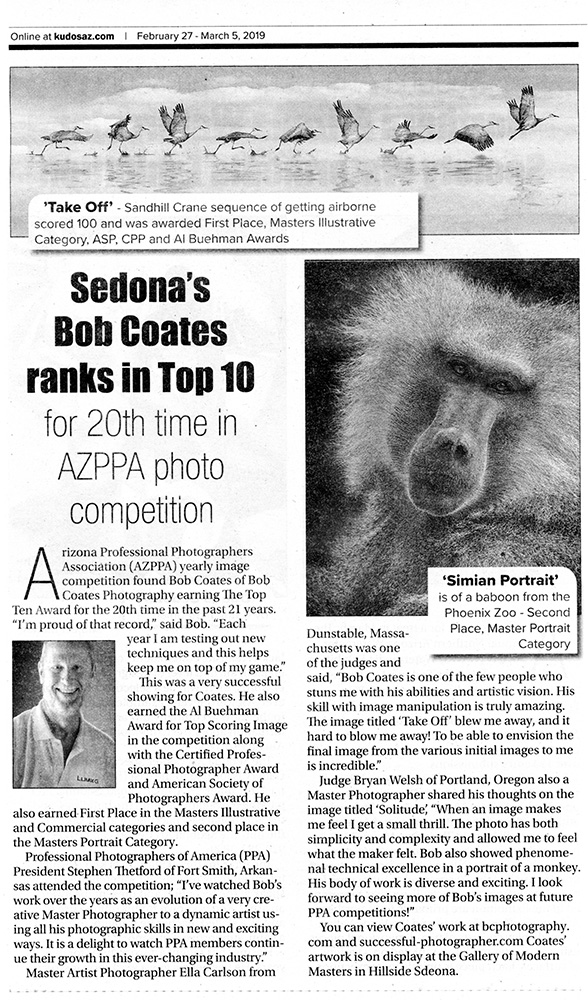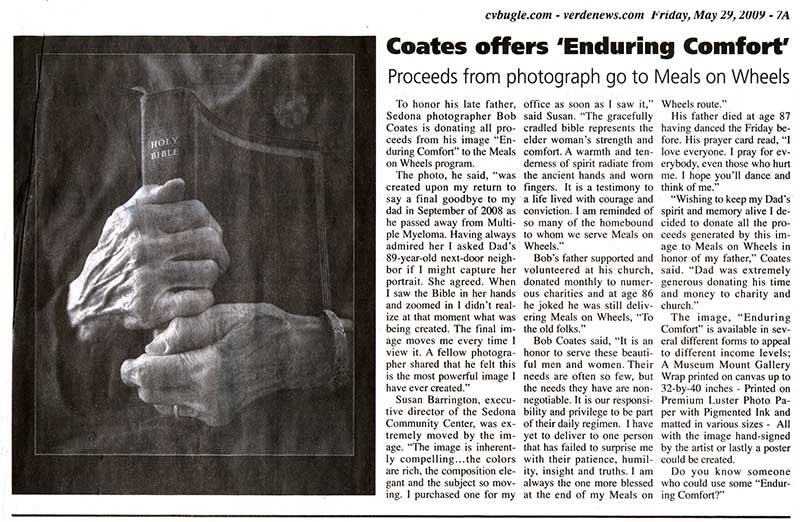 Verde News article. Bob Coates image 'Enduring Comfort' raises money for Sedona, Arizona Meals on Wheels program.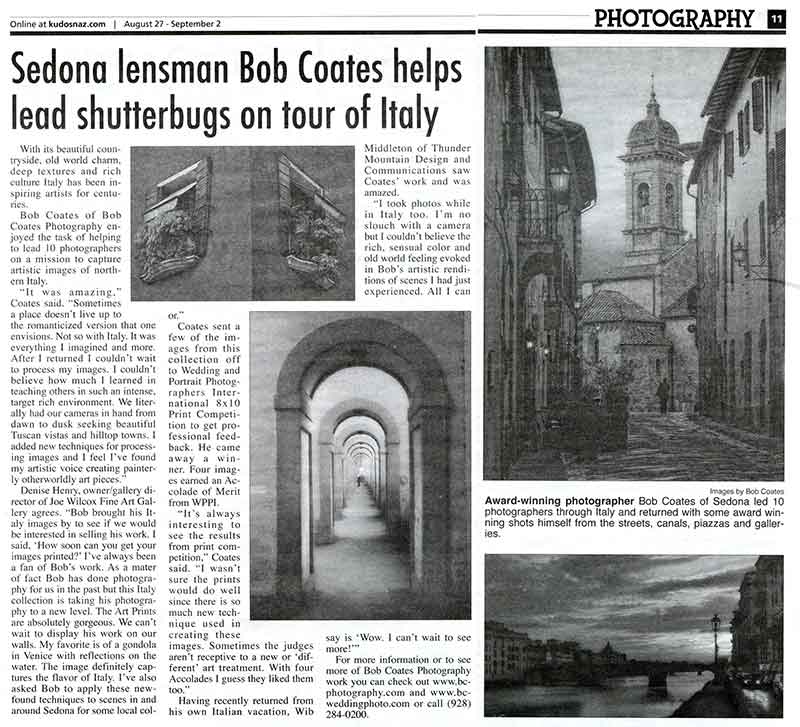 Kudos Entertainment Newspaper article. Coates helps to lead photo tour in Italy.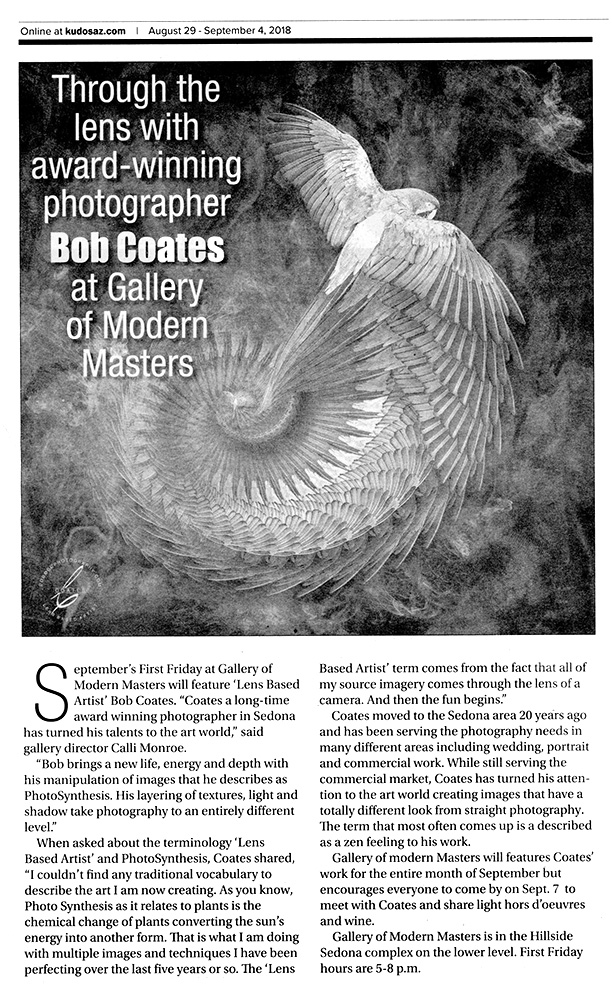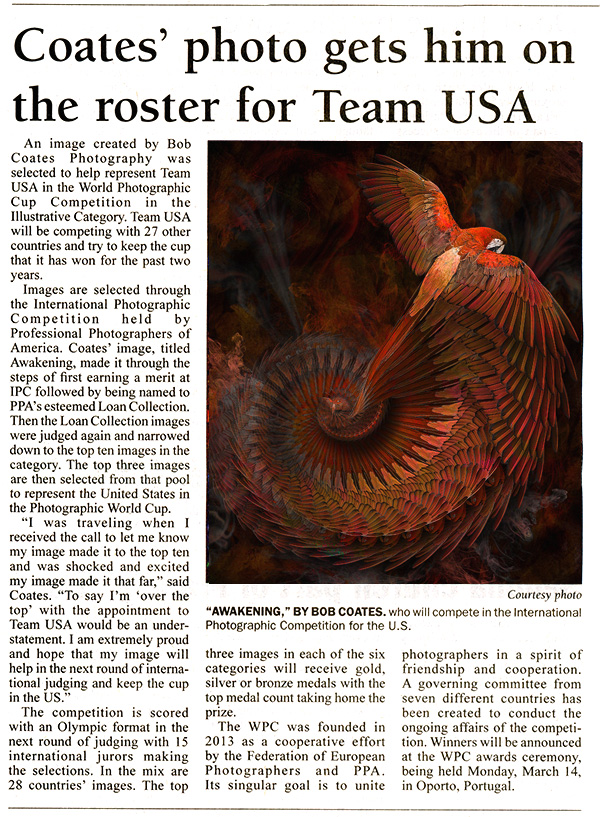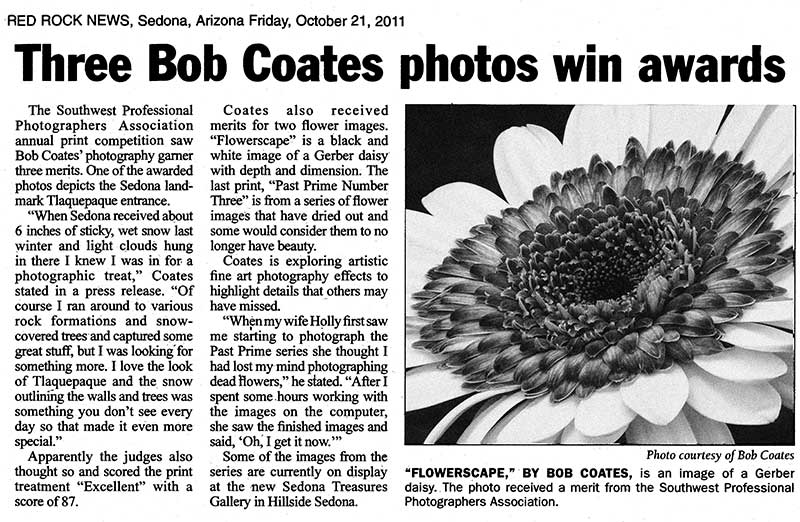 Red Rock News article on Bob Coates Photography winning awards.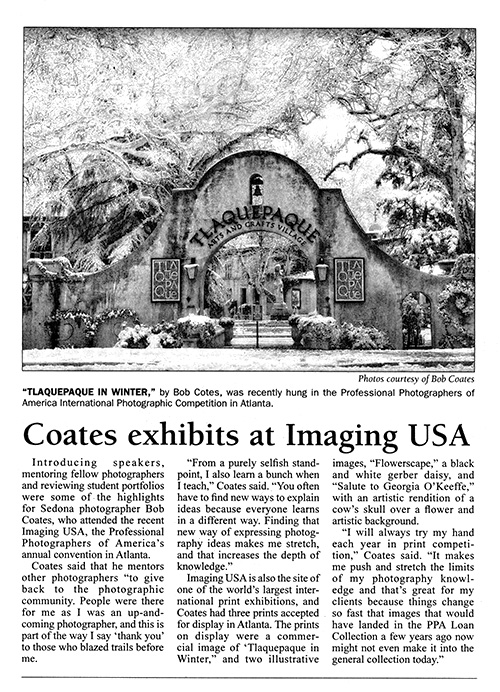 Bob Coates Photography exhibits at Imaging USA, Professional Photographers of America International conference held each year. 'Tlaquepaque in Winter' an artistic rendition of the the snow covered Tlaquepaque entrance is one of the featured images.
Kudos Entertainment Newspaper article, Coates honored by peers in International competition.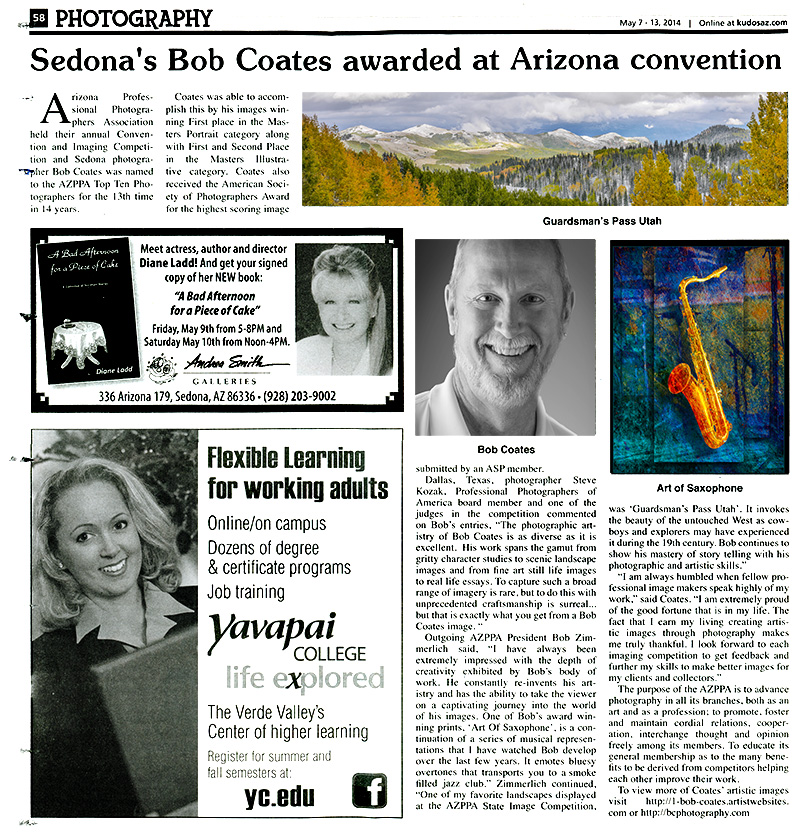 Kudos Entertainment Newspaper article. Bob Coates receives award at Arizona Convention.