Aerial Photography
I have been fortunate to live in places with some spectacular scenery and would probably have a hard time living in an urban environment or someplace dull and flat. Sedona, Arizona is the gorgeous place I now get to call home. Red rock vistas and a dry climate that showers us with sunshine two hundred seventy-eight to three hundred days per year.
And, after residing here seventeen years, I still find different ways to view the majestic red rocks thanks to visitors spurring me on. Some visiting friends asked if a helicopter tour would be worth a go and would I be interested in joining them? I said, "Yes indeed!" I was surprised I hadn't thought to fly the skies with my camera in all that time.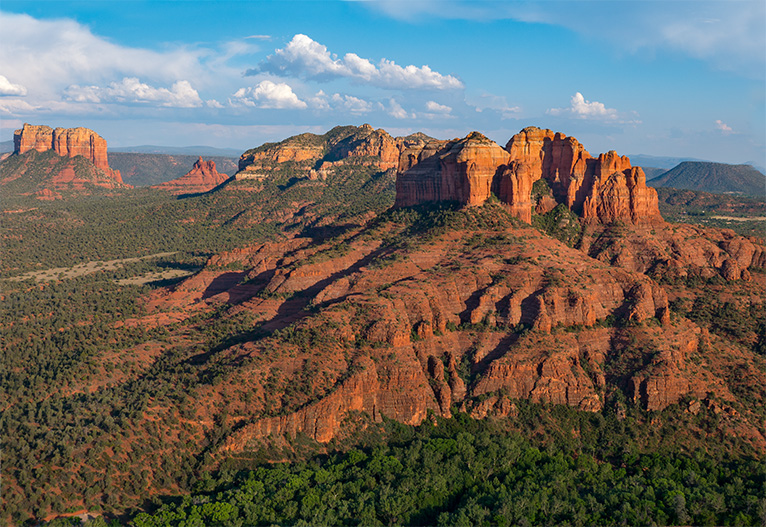 Sedona's famous Cathedral Rock from the air.
Lumix G7 with 12-35 f2.8 Vario G lens @f5.6 1/400 sec. 12mm (24mm FF equivalent) ISO 200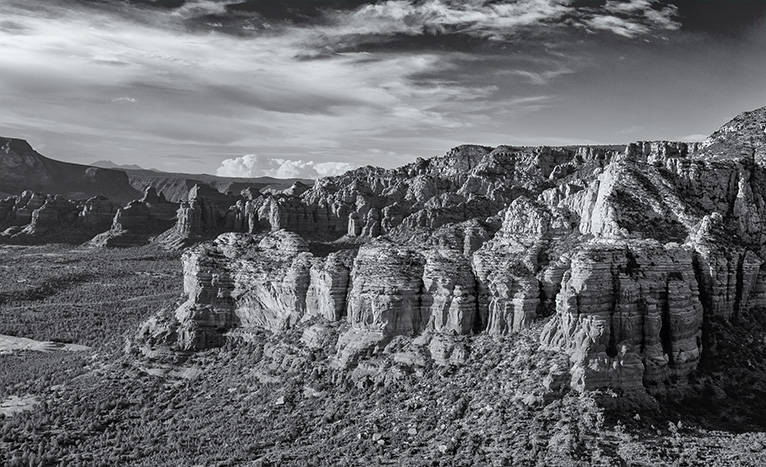 More Red Rock formations. Same gear as above. @5.0 1/400th sec, 19mm (38mm FF equivalent)
Processed in NIK Silver FX Pro2 (available free from Google)
Cathedral Rock is one of the state's most photographed destinations. I know that I have photographed it on numerous occasions, but never from the air. An artistic rendition of Cathedral Rock was one of my first Merit images in Professional Photographers of America image competition.
Let's talk about photographing from the air.
I have done photography in the past from the air, but it was always a charter flight where I was calling the shots for the position of the helicopter or plane and the possibility of staying on station or revisiting until I had the shot. With that kind of luxury, there was time to check settings of the camera ensuring they were correct. This flight was going to be a horse of a different color. A sightseeing tour lasting 17 minutes and no do-overs.
I thought about the new technology I have access to in the Lumix cameras and decided to place my trust in it. I've talked about this setting once or twice before. It's called Intelligent Auto. I jokingly refer to it as the 'Honey, stop the car!' setting. It calculates the f-stop, shutter speed, and ISO. I have always used it sparingly as I want to make the decisions that control the final look of the image. In this case with no time to devote to changing settings I decided I would concentrate on framing and composition and see how well the camera would do. Shot in RAW to have more latitude to cover exposure but the SOOC files were pretty darn good.
After looking at the metadata for exposure settings (see above) I was surprised to note that the camera had automatically recognized the scene as a landscape and set the camera for 'Landscape Mode' – "For landscape photos with background in focus."
Once again I was pleasantly surprised. Shutter speed was high enough to freeze the scene in spite of the helicopter's vibration and motion. Exposure was solid for the scene. All-in-all it's a winner. If this were a commercial shoot for a paying client, I would be working this entirely different but this is a great help in quickly changing situations.
Thinking about visiting Sedona? Check out http://www.sedonaairtours.com for your aerial view of the red rocks. really enjoyed my experience with Sedona Air Tours. They work together as a great team!
Learn more about other attractions in Sedona at the Visit Sedona website.
Yours in Creative Photography,       Bob
Save
Save
Save
Save