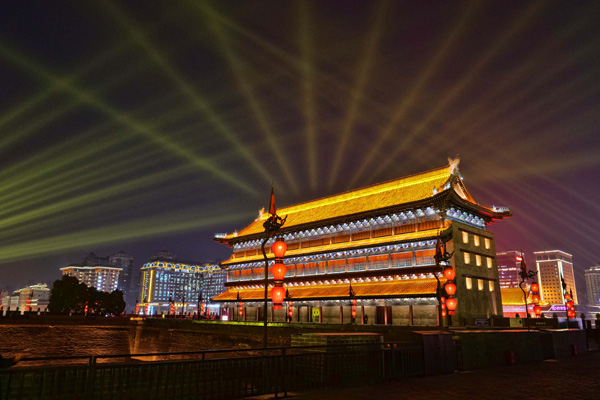 Travel in China – Xi'an
Guest Post – Ken MacAdams
Ken has been traveling in China and settling in for long periods. His last visit was for quite a while in Xi'an. Enjoy his images and commentary.
"I've been in Xi'an for nearly two months now. Living like a local has great rewards. In my apartment complex, I play on the jungle gym with the little kids (who come running and squealing to me – babbling away in Chinese that I can't understand) when they spot me walking by! I go to the local street market to purchase my fruits and vegetables with my neighbors.  I ride the bus with university students, businessmen and secretaries going about their daily lives.  And nothing is more rewarding than the toothless old granny who bursts into a smile when I say "Neho" (hello) as we pass on the street!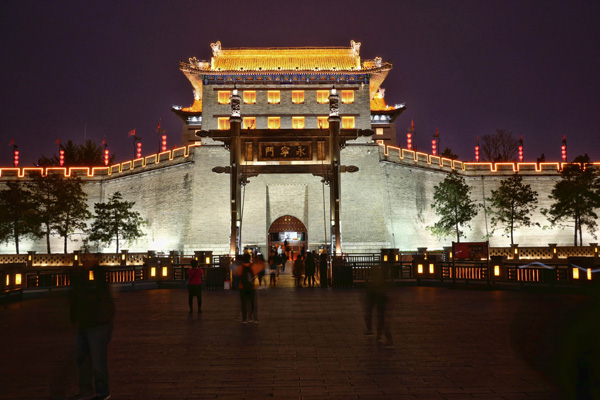 The drawbridge over the moat with the archers tower behind.
This wall is the only ancient city wall completely intact in China.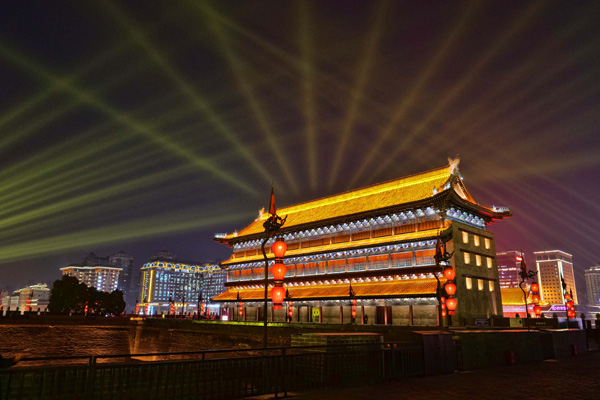 This is one of the archers towers over the drawbridge.  Besides longbows, they had crossbows capable of reaching 1/4 of a mile.  It would have been deadly to try to gain entrance uninvited!
The lights at nighttime are magic! 
As a tall Westerner, I stand out, but I find the Chinese people very warm and welcoming, even if there is a huge language barrier!  The "translator" app on my phone gets a daily workout, but many of the younger folks have studied some English, and although bashful about using it, they'll often come to my rescue!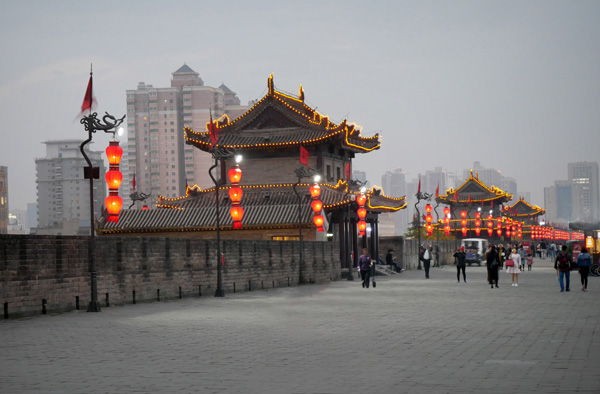 Guard towers stationed along the top of the wall.  Note the smog in the atmosphere.
Although I concentrate most of my time in Xian, I travel out to photograph in provinces to the east and west.  China continues to expand routes serviced by their high speed "bullet" train, the futuristic aerodynamic trains that travels at 200 MPH. Travel between major cities is quick, quiet, and competitive with air travel. To me, traveling on the train, is just part of "living like a local."
More from Ken and Xi'an, China Next Friday!
Ken has always loved to travel, so when he made a common connection with the fact that either a long day pounding the streets of some foreign city, or shooting the last dance at a wedding,  a good part of his physical
weariness came from lugging around his big heavy DSLR. That's when he started looking at alternatives – and ended up selecting Panasonic Lumix Micro Four Thirds gear.
Ken is rarely without a camera, and the next great photo travel experience – whether local or abroad – is always in the back of his mind!  A longtime resident of the Four Corners, and when he's not out on the road, he enjoys some of the great outdoor opportunities found there – mountain biking, hiking, and Jeeping.