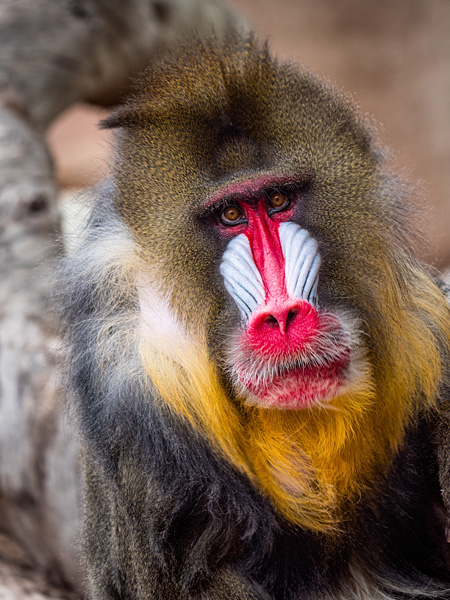 Creating Good Animal Photos from a Captive Environment
I practice my wildlife photography by spending time at the zoo. There are a few reasons for this, and I'll share them here to hopefully help you in your image creation and get feedback from you on my thoughts. You can always reach me through my email [email protected]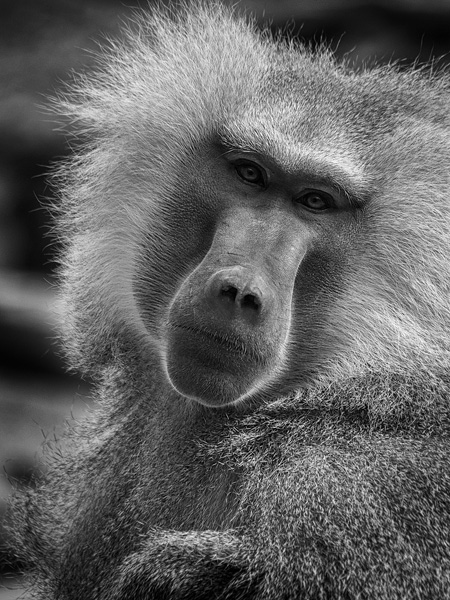 A baboon named One at the Phoenix Zoo. I spent a bit over an hour waiting to get this portrait with eye contact in decent light. Black and white allow for concentration on his expression.
One benefit of photographing in a structured environment is that you can find animals. I know that it sounds simple at its most basic but you need the practice to become a good wildlife photographer. Exercise may be had at the zoo. Part of the training is to learn to focus quickly and in the right place. You may think this can be easy, but until you have tried it, I think you'll be surprised how difficult it can be to acquire arresting and exciting photos.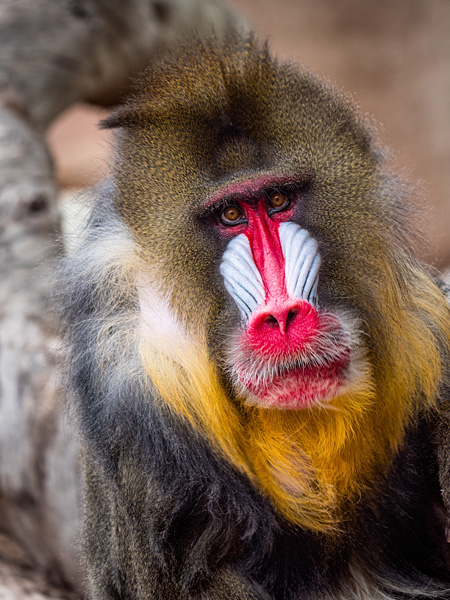 This Mandrill was sleeping for quite a while, but I hung around until he started foraging around in his enclosure. Expression and eye contact are paramount in making this a success. (the color of his features don't hurt either!)
Just because the animals are captive does not mean that they will pose for you. Things such as eye contact and behavior can make or break an image. One of the items on which you are practicing is to see how an animal moves. How to stop that movement (or accentuate it for something more artistic).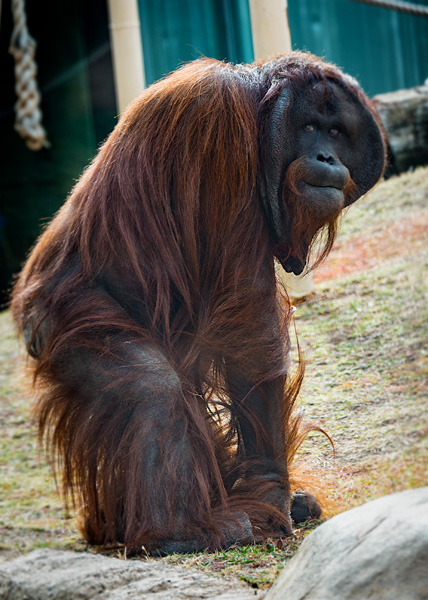 This Orangutan was walking away, and I mentally willed her to look at me over her shoulder. I will often ask mentally for my wildlife to change position and it's pretty cool how often it works.
If I can suggest one thing that you will learn that you can take with you into nature is patience. Even though you are in a target rich area, you still need to spend time, and lots of it, to get images with eye contact. If you run from enclosure to enclosure thinking you will get more varied photos you will be correct. But I suggest that the pictures will be less than stellar than if you spend more time with fewer animals.
More from the Phoenix Zoo in the next couple of days. Including the gear I use for making my images.
Yours in Creative Photography,     Bob