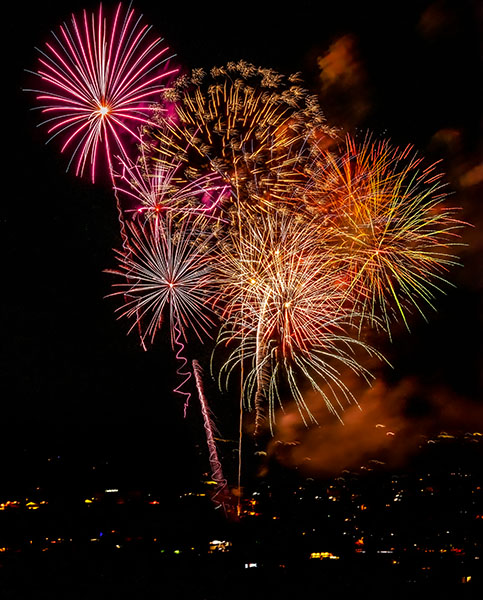 My writing for the Successful-Photographer blog has been lagging a bit. I've been writing for many different publications including Photofocus.com and photography magazines. I'm sort of reminded of the story about the cobblers children having no shoes. Or, on an even more personal note, my dad was a TV repair man always off to help other folks get their sets tuned correctly when I didn't know that other people in the world didn't have a green cast. Kidding aside I want to get my home base back to work.
Start off with fireworks
And, what better way to get things going than to set this first new post off with some fireworks??
On July 4th Cottonwood, AZ, the next town over from Sedona had a fireworks display. And, in honor of the state of Covid-19 they used all aerial shells so people could spread out to enjoy the night of colors streaking across the sky.
It worked it very well. I'll share some ideas on capturing your fireworks for next year with some new things I learned. (you may want to bookmark this page) I'll share my set-up for using three cameras on this post. The next two posts will be on the Olympus LIVECOMP setting and making a time-lapse.
Three tripods
On to the set-up with three cameras mounted on tripods. Two were standard and I added a Joby Gorillapod with legs wrapped around one of the taller tripod legs.
Two of the cameras were set for capturing five second exposures with a one second delay using the time lapse mode. Somehow one of the cameras got off its time-lapse mode and I ended up firing it by hand. The third camera was the Olympus E-M1 Mark III which was set to LIVECOMP mode which I'll detail in the next post.
Yours in Creative Photography,   Bob