Bombay Hook National Wildlife Refuge – Smyrna, Delaware
I've been a bit remiss in posting. Travel for speaking. Travel for family visit. And catching up upon return fronfrom the travel makes Bob a bad boy. But, I'm back and with plans to have more posts even when traveling to judge images &speak in Oregon and do a seminar and a couple workshops for the Festival of the Cranes in Socorro, New Mexico in the middle of November. We'll see how that works out!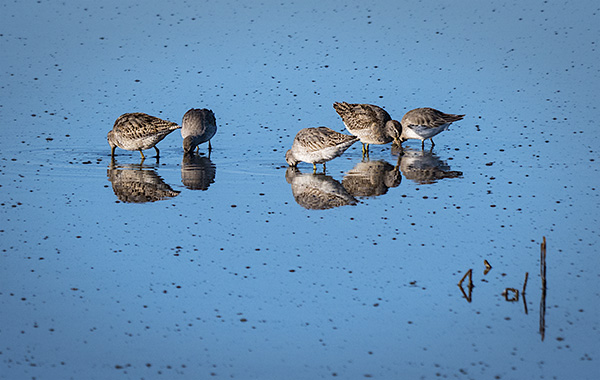 Dunlin Sandpipers enjoying breakfast
While on the family visit I made it up to the Bombay Hook National Wildlife Refuge. I spent the day making images and talking photography with my friend Ned Levi. This was the first time we met in person. I highly recommend spending quality time with your peers. It's wonderful how much you can learn from each other. (learn more about Ned and his blog)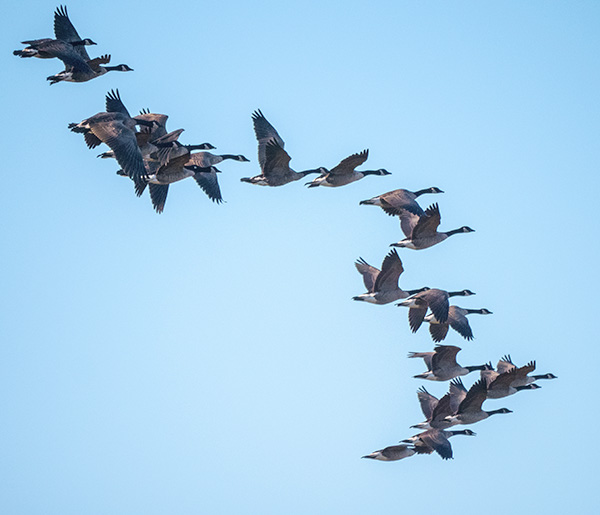 Thought this was an interesting formation of the Canada Geese. I normally enjoy them mor eisolatedbut the overlap of the birds is kida cool. Watcha' think??
If you have not spent time in wildlife refuges there are some protocols that make the system work for everyone. If you do go please follow the rules and regs. use the longest lens you have and do your best to not disturb the wildlife. There's an expression, "Take only images, leave only footprints." Not sure I have the exact words but you understand the sentiment.
This is from the Refuge website and the rules are much the same in all refuges.
Know Before You Go
The wildlife drive is open from 1/2 hour before sunrise to 1/2 hour after sunset daily.
The visitor center is open weekdays from 8:00 a.m. to 4:00 p.m. year round.
During spring and fall weekends, the visitor center is open Saturday and Sunday from 9:00 a.m. to 5:00 p.m.
The visitor center is handicapped accessible and has educational displays and videos.
The visitor center is closed on Federal Holidays.
The visitor center is closed on weekends during July, August, mid-December, January, and February.
Check the website or call to find out about refuge road closures during bad weather and hunting season. During summer months, visitor should bring insect repellent and wear long-sleeve shirts and long pants.
To protect wildlife and their habitat and to provide the best opportunities in wildlife observation and photography, it is important not to disturb, injure, or damage plants and animals on the refuge. In fact, it is a prohibited act as stated in 50 CFR 27.51. This disturbance includes flushing birds and other wildlife or using mechanical or electronic devices to lure birds closer for observation or photography. Please remember to take only memories and photographs and leave only footprints.
Unmanned aircraft systems (Drones) are prohibited.
A simple houe wren was dancing in and out of the flowering bush. Behavior and movement photos are my aim.
Images were made with the PANASONIC LUMIX G Leica DG Vario-Elmar Professional Lens, 100-400MM, F4.0-6.3 ASPH mounted on the Lumix G9.
Yours in Creative Photography,       bob