Turning Customer Service into an Art Form
How do you make your business grow and have return customers? My buddy Skip Cohen gives you ideas!
"Everyone at one time or another has had a battle with a major corporation. The most common are the phone and cable companies. Each one is a David-Goliath scenario, and they're draining, but here's a different way to look at the challenges. Each bad experience is a lesson in helping you understand how to better work with your own customers.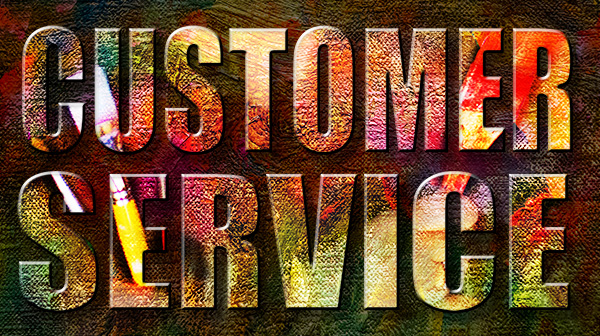 I've often wondered if customer service is simply dead in America. Then, I have something amazing happen that restores my faith. For example, we recently had a problem with Wayfair on a defective outdoor umbrella. I called to find out what we needed to do, and after an explanation, they simply apologized and issued a full credit. No reason to return it – just common sense. They couldn't have been nicer, and the standard of service they set is the reason we buy more from them!
The experience got me thinking about the ingredients for great customer service. Photography is a word-of-mouth industry and providing great service is one of your very strongest marketing tools. Over the years I've written a lot about Customer Service and here are a few easy to remember tips to help you become a powerhouse in your reputation for customer support.
Exceed expectations!
Be cheerful! I know it sounds basic, but you can tell when somebody is smiling, even on a phone call.
Give people the answers to the questions they're asking.
Solve problems quickly. The faster, the better.
Make your customers feel like their order, no matter how small it might be, is important. They need to feel you value their business.
Always give customers more information than what they ask for. Disney is the best at this. I know I've written before about it. If you ask any Disney staff member "When is the electric light parade?" They'll not only answer you, but they'll give you a great suggestion on where to watch it. Be engaging!
We all have things that make us feel good about our shopping experiences. For example, you can buy the same short-sleeve Polo shirt at Macy's or Nordstrom's, for the same price, but think about what makes people enjoy shopping at one store versus the other.
Now, take those same ingredients and apply them to your photography business! Obviously, the quality of your images has to be outstanding, but don't underestimate the power of providing a great experience for your clients! It's the greatest tool you have to separate your business from the competition."
                     "Your customers won't love you if you give bad service, your competitors will." Kate Zabriskie
Skip is a guy to follow! You can see more of Skip's stuff here http://www.skipcohenuniversity.com/scu-blog (ed)
Skip Cohen has been involved in the photographic industry his entire career and previously served as President of Rangefinder/WPPI and earlier, Hasselblad USA. He founded SkipCohenUniversity.com in 2013. Skip is a co-host for "Mind Your Own Business" and "Beyond Technique," webcasts through Photofocus.com, writes for several publications including Shutter Magazine and is actively involved in several advisory boards for non-profit organizations.