He's back! Elvis does a great show!
And, I'm not an Elvis fan.
Oh wait! It's not Elvis it's Chance Tinder's tribute to Elvis with the Kentucky Rain Band and it was at Sound Bites Grill the other night. But, you wouldn't know it wasn't the King. Chance has a great Elvis voice but doesn't go hooky with it. He's very interactive with the audience and from my perch in the back I could see almost everyone dancing in their seats. And, scarves were being shared with women who were willing to head on up to the stage and share some dance moves. Chance is very much the professional actor. Here's a description from his web site…
Chance's secret is believing that it's not always the voice, that plays the most important part, but it's knowing exactly how to become the man himself on that stage!  It's basically the attitude of Elvis Presley… Shy but confident… Knowing exactly what he's doing.  Chance isn't an 'impressionist' doing a spin Elvis Presley.  Rather he's Chance Tinder, the actor, recreating a character…  Much like actor 'Joaquin Phoenix' portraying 'Johnny Cash', or entertainer/actor 'Jamie Foxx' re-creating the great 'Ray Charles'.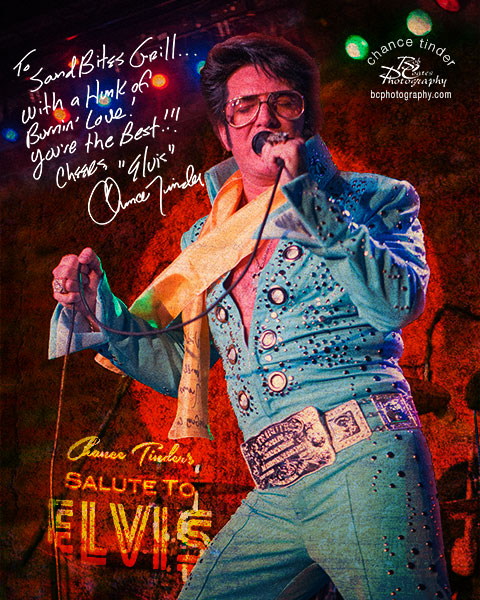 Chance Tinder as Elvis live on Stage at Sound Bites Grill with a bit of artwork by yours truly for the 'Wall of Fame'.
Man I can't recommend catching this show enough. Lots of fun and memories seemed to appear out of the air taking me back in time.
Yours in Creative Photography,     Bob
PS – Same basic gear, settings and post production as in this post.