Infrared Photo – Sedona
Monsoon weather.
Clouds of all shapes and sizes dance and glide through the area on a regular basis.
Normally, mid-day is not the best time to be out photographing in full sun. With my Lumix G6 camera converted to infrared the middle of the day becomes a playground of absolutely beautiful high contrast. I love this look and the possibilities it brings.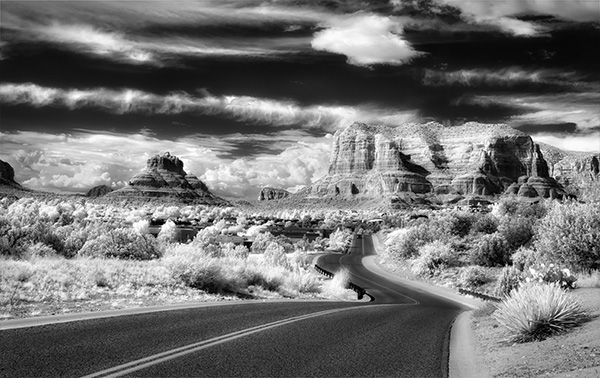 Infrared black & white image Village of Oak Creek, Sedona, Arizona
The camera was converted to infrared by LifePixel. It took a slightly older camera and gave me a new look  for images in my photography life. The way I capture is in RAW plus jpeg and bracketing by three stops. For this image, I processed the three jpegs and layered them together using the information from each using Masks in Photoshop. I took the layer showing the highlights and moved it into NIK Color FX Pro 4* and added a Glamour Glow Filter to get the "IR Glow."
Yours in Creative Photography,       Bob
* You can download the entire series of NIK filters at no charge. Go get 'um. There probably won't be any updates but they are an incredible set of tools for use right now.
PS – I expanded upon this blog with more information on 'Working a Scene-Multiple Compositions' on the LifePixel site.
Save
Save