Marketing Monday with Skip Cohen
Keep Climbing
A new feature here on Successful-Photographer will bring marketing thoughts and ideas from Skip Cohen every Monday. I hope you get as much from listening to Skip as I do!
Staying Focused on Your Education and Growth as an Artist
"When you reach the top, keep climbing!"
Climbing Lizard Photo – Bob Coates Photography
It's an old proverb, but it's the way I've seen great photographers in our industry stay focused. They never slow down and never stop trying to learn something new. One of the keys to their success and yours is to continuing education.
The first book I wrote was with Don Blair, Don Blair's Guide to Posing and Lighting Body Parts. It was a guide on traditional portraiture, mostly about what to do with Mother Nature's challenges, including bad complexions, eyeglasses, braces, posing of women who weren't size 5, etc. Nobody could create a more flattering portrait than the legendary Big Daddy Blair himself. He was one of the very best.
Don was once asked, "What's the best portrait you've ever done?" His answer said it all, "I don't know, I haven't done it yet!"
There's no question that Don was one of the finest portrait photographers in the world, but at 75 he still hadn't stopped learning. He still hadn't created what in his heart he felt was his most beautiful work. He always knew he could do better and kept attending every class he had time for.
Set your goals high, but never believe you've hit the top!
We're part of an industry that's continually changing. Paradigms shift every morning, sometimes as consistently as the sun coming up. Changes in communication and technology are always challenging us. Our creativity is never wholly tapped, continuously being expanded by other photographers and leaders in the industry.
Have some fun with this little exercise: Take a look at the first images you captured, then look at your work today. Odds are you'll have a front row seat to your evolution. Photography is an ongoing process. As long as you keep learning, your ability to evolve as an artist will never stop.
PS – And, this is the perfect time to share why I'm so happy my good buddy Bob Coates asked if wanted to share a post now and then on Successful-Photographer. The friendship Bob and I have started many years ago and is built on a foundation of respect for education and a love for this industry. We're cut from the same cloth when it comes to believing in education and helping photographers raise the bar on the quality of their images, relationships, business, and marketing!
Skip is a guy to follow! You can see more of Skip's stuff here http://www.skipcohenuniversity.com/scu-blog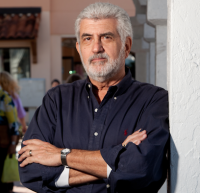 Skip Cohen has been involved in the photographic industry his entire career and previously served as President of Rangefinder/WPPI and earlier, Hasselblad USA. He founded SkipCohenUniversity.com in 2013. Skip is co-host for "Mind Your Own Business" and "Beyond Technique," webcasts through Photofocus.com, writes for several publications including Shutter Magazine and is actively involved in several advisory boards for non-profit organizations.