As you can probably tell by my lack of posting the last few days it has been extremely busy in bob's world. Had a full two day shoot for the Sky Ranch Lodge after their remodel. I'll share some photos with you as soon as the processing is done along with some of the techniques I used to get the images.
In the meantime, I did have a chance to process another image from my infrared photography. I really enjoy black and white images and the infrared adds another whole new dimension to it. I converted my Lumix G6 through LifePixel with a 750 NM (standard) IR filter. This gives you images that are on the pink side and of course need some processing to get them into final shape of Infrared BW images. As I practice and process more I am able to get a better range of tones throughout the photo.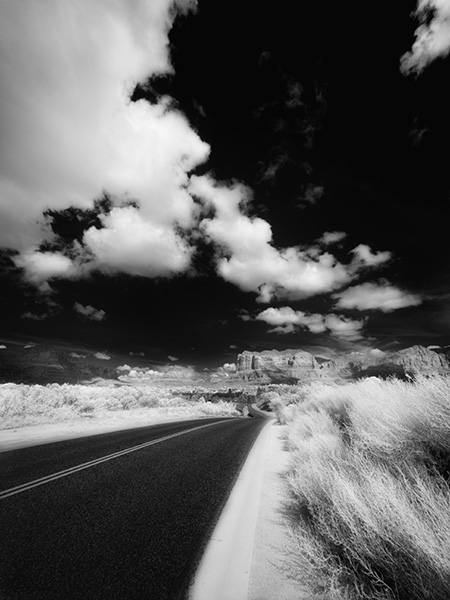 Captured in the Village of Oak Creek, Sedona, AZ. Courthouse Butte is the main rock formation.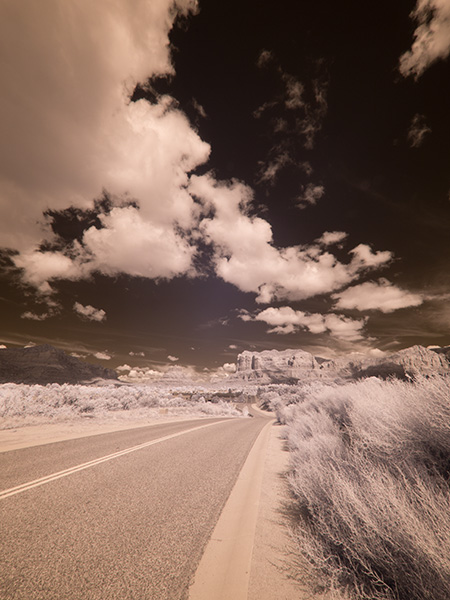 Here's the IR image Straight out of Camera Note the pink cast. Finding I need to underexpose a bit in order to not loose highlights even though the histogram indicates it is with the scope. You have to remember that the histogram is letting you know about visible light not necessarily infrared exposure.
One of the really great things about having a dedicated IR camera is the ability to set recording for RAW + jpeg and have both images to work from in post production. If you shoot only in RAW you don't get the processing from the camera. I set the camera to capture BW images so I can get a ballpark preview of the scene as I work.
You don't need to convert a camera to IR you can always go 'old school' with a Wratten IR filter in front of your lens. The problem with doing that is your exposure time will be lengthy and focus can be a bit of a pain as IR light rays and visible light focus at a different depth on the sensor so additional calculations need to be made. (although the extended time might be cool for capturing cloud movement!) Might have to pick up an IR filter myself too…
Best part is infrared photography really opens up the mid-day time slot for creatively capturing images as it is usually too much contrast for regular photography.
Are you shooting IR yet?
Yours in Creative Photography,        Bob