My Muse – Pash Galbavy
I gotta tell ya it is some kind of wonderful to have a creative person who enjoys being in front of the camera! I've never had a muse before. For those who might not know the term here's the Dictionary definition.
Verb (used without object),
mused,
mus·ing.
to think or meditate in silence, as on some subject.

Archaic

.

to gaze meditatively or wonderingly.
noun: Muse; plural noun: Muses; noun: muse; plural noun: muses
(in Greek and Roman mythology) each of nine goddesses, the daughters of Zeus and Mnemosyne, who preside over the arts and sciences.

synonyms:

inspiration

, creative influence,

stimulus

;

2.

a person or personified force who is the source of inspiration for a creative artist.
Having a person who is an artist in their own right is a gift. Pash has ideas, shares them with me and then lets the chips fall where they may. We start to make photographs with her thoughts in mind then we go wherever the first situation takes us. She has an intimate relationship with the environment which is usually the starting point. Then I add a couple of thoughts to refine, and we experiment and play, and this invariably leads me to create new imagery that I find exciting.
I usually end up pushing my personal boundaries as we work together. And then, even more, when I get into post-production.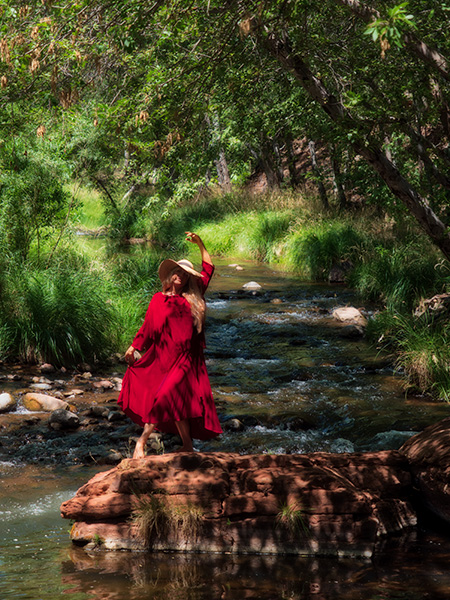 Pash in red. Made with Lumix G9
Our latest foray into collaboration led to a photo session on Oak Creek in which she had a thought of 'creating a mermaid.' I had the urge to play with infrared and had her do some warm-up posing on the rocks with a dress, flowing cloth and au' natural.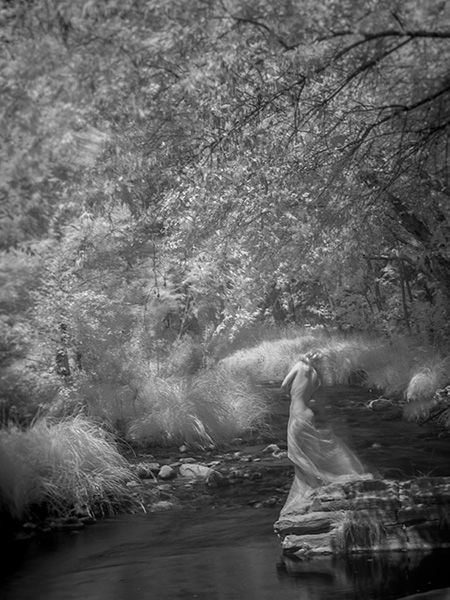 This Photo has the feeling of a Greek Statue to me. Infrared made with Lumix G6 converted by LifePixel
As the session went on, I added Tiffen neutral density filters to extend the time that the shutter would be open.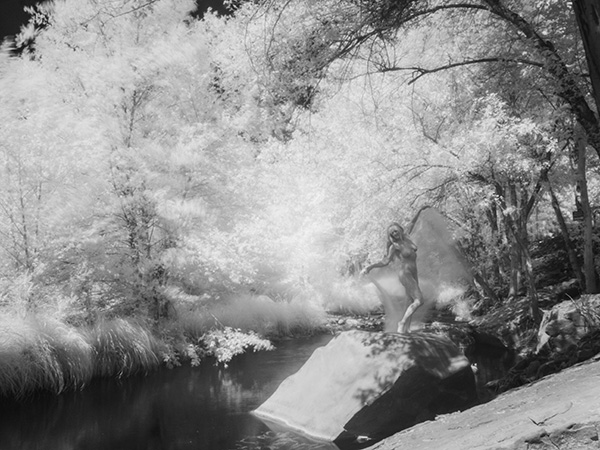 The neutral density filters extended the time allowing the wind to register in the trees.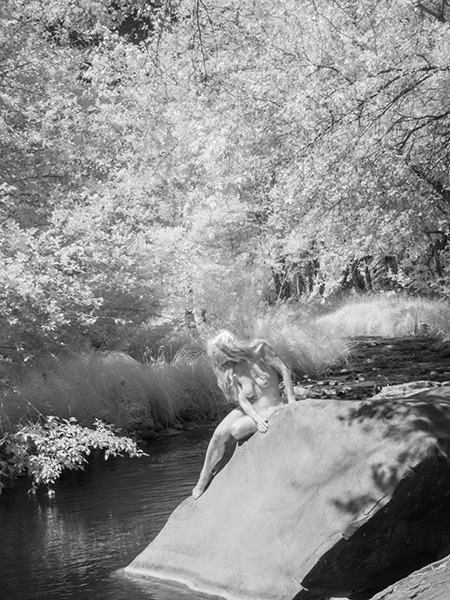 This image reminds of one of the classic painters.
More from this session to come.
Yours in Creative Photography,       Bob
PS – Learn more about Pash here