Nighttime Photography
Photographing at night can be a challenge. The dynamic range of any camera can be challenged by bright lights in a darkened scene. Trying to make that read properly usually takes some work with and HDR program but sometimes you don't want to work quite that hard and want to just get a decent grab of a scene.
Before switching to the micro 4/3rds system by Panasonic I was never a fan of any presets on a camera. But after playing with some the results have been impressive. Several Lumix Cameras have presets that can help you with extreme situations. For example, the GH4 has an artistic setting called High Dynamic which can be helpful. The new G7 and the FZ1000 have a setting in the scenic menu called Handheld Night Shot where the camera is basically making multiple exposures and blending them together quickly for you.
Strangely enough I hadn't tried the Handheld Night Shot preset until a fellow photographer I had recommend the FZ1000 to asked me if I had tried it. When I did I was quite happy with the results. Always fun when others share features that work really well with you. Considering I was shooting this through the window glass and doing a quick test this works. I'll be trying it under better conditions soon.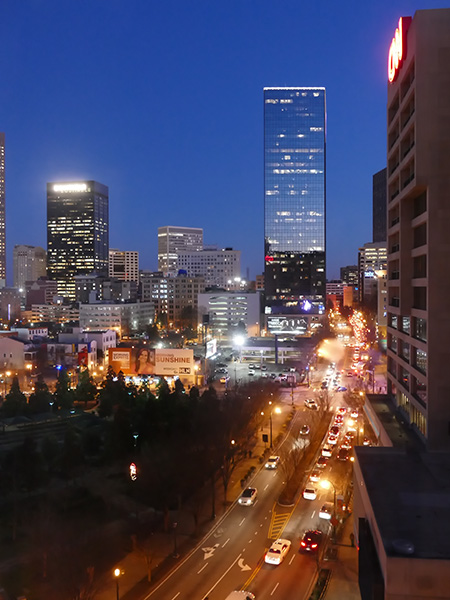 This was captured from my hotel room at the Omni in Atlanta during the PPA Imaging USA convention using Handheld NIght Shot setting on camera. Lumix FZ1000
In future posts I'll be looking at leveraging other presets from the Lumix cameras as well as exploring some new HDR software from Macphun called Aurora…
Yours in Creative Photography,     Bob