The marriage theme continues from the Dia de Muertos (Day of the Dead) celebration at Tlaquepaque in Sedona. (see part uno)
This couple was having a blast dancing with Mexican musicians providing music. They stopped and graciously posed for people as they wandered through the event. I asked if they wouldn't mind posing for me where I could make the Infrared capture shine with deciduous trees as part of the background. Up the stairs we went…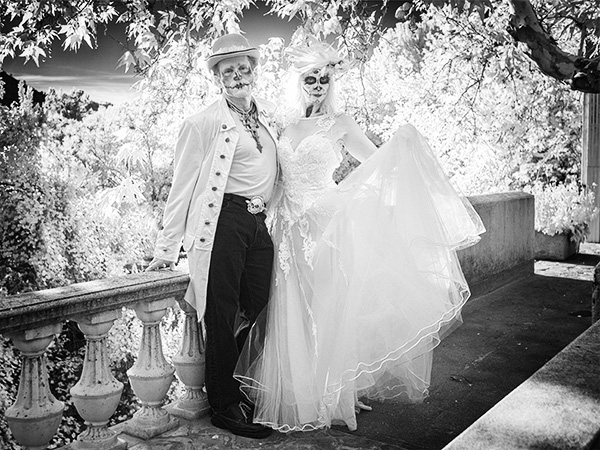 Asking the couple to move to a different background made all the difference compared to just asking them to pose in among the crowd.
I'm still taking multiple exposures to make sure I still have detail in the highlights and the shadows, dark skies and bright leaves then process the files by blending them with Layers and Masks in Adobe Photoshop. This was a simple blend with the darker Layer on top I made a Feathered oval Selection using the Marquee Tool and Refine Edge. This allows you to see and tweak the results before applying the Mask. Even with the Bracketing I did end up loosing detail in the bride's hair on the sunny side.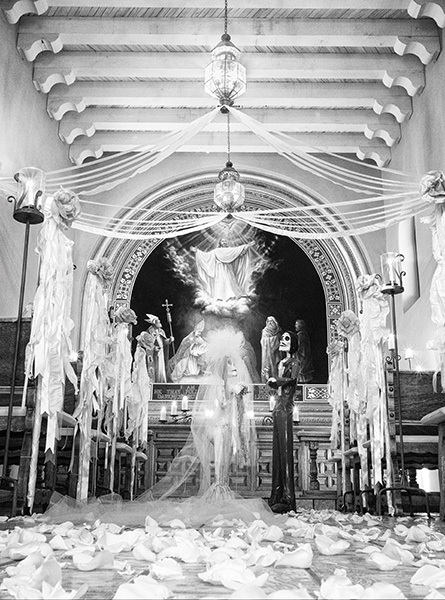 The wedding theme continued at the Chapel that was set for a Day of the Dead wedding.
As you might see I am really enjoying using the Lumix G6 that has been converted to Infrared by Life Pixel. I choose the standard (750nm) filter for my conversion because I wanted to get the traditional IR look exactly as I'd like it.
Yours in Creative Photography,     Bob