Guitarist JJ Sansavarino likes to bring guests along to his gigs at Sound Bites Grill in Sedona, Arizona and last Friday night it was New York singer Vivian Sessoms.  She has a silky voice and you can tell she's been at it a while as proven when I went to take a peek at her bio from her web site.
"Born and raised in Harlem, Vivian, whose mother was a session/jingle-singer, and whose father was a flautist/percussionist (who's played with the likes of James Brown), learned the wonder of music at a young age. Surrounded by nightclubs, churches and regular jam sessions at her family's home, she was already singing by the time she could talk. "Growing up, there was always music to express the way I was feeling. I was so immersed in it, that I kind of viewed music as a kind of backdrop to my life," she recalls."
Original photo was captured with the Panasonic Lumix GX7. The density range available on this camera's chip is really helpful for working in harsh LED stage lighting conditions and still being able to pull detail out of the shadows. The fact that it is a very low profile size allows me to capture the action without disturbing the guests during the performance. Very cool!
The image was imported into Photoshop where Vivian was extracted from the photo and put on her own layer. Then a drop shadow was added to give the image some depth. Then a Inner Glow was added to give her some separation using Layer FX. Multiple textures and blend modes were used to add the artistic treatment to the image.
Here's the finished art photograph for the 'Wall of Fame'…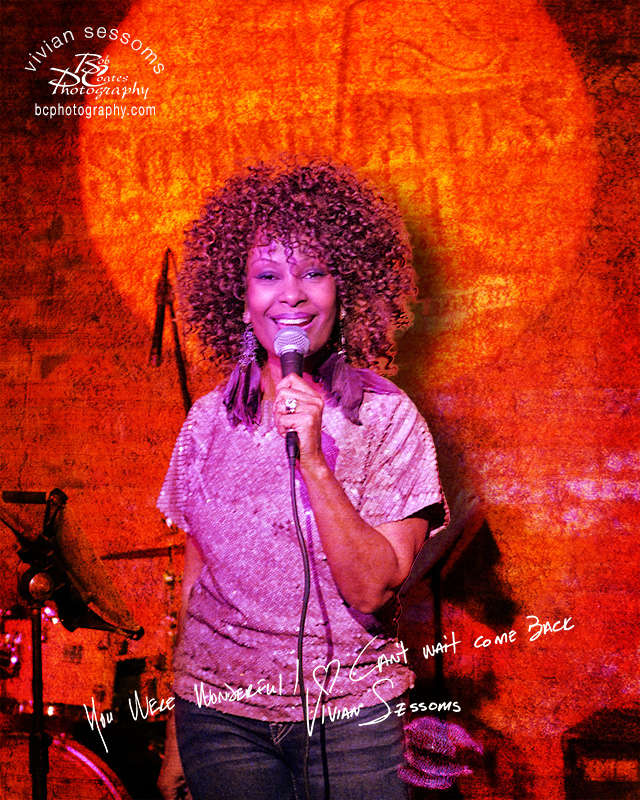 Vivian Sessoms – New York singer at Sound Bites Grill in Sedona, Arizona