When prepping images from an event or wedding it used to take me quite a while to give a quick once-over to the images in order to make a proof gallery. Take the images that were shot in the same situation. Make some corrections get the color set and apply it to all the images from that portion of the shoot. Gather next set of images and repeat. It was pretty amazing how much time that ate up even though single adjustments were being made to multiple images it was still pretty hands on…
Now I'm using Perfectly Clear. I must admit I have had access to this software for quite a while but it takes a while for this old dog to jump on new tricks! Wish it wasn't so. I had played with the software using it on an image here and there but i wish I had been a bit more diligent! Once I realized that you could batch process files while making up to 12 corrections in an image without touching them i started kicking myself for not utilizing the power of this software earlier.
Here's a strip of a couple images from a batch process that includes three different scenes and would have needed me to touch multiple sliders in Adobe Camera RAW three different times, and that's just part of the wedding…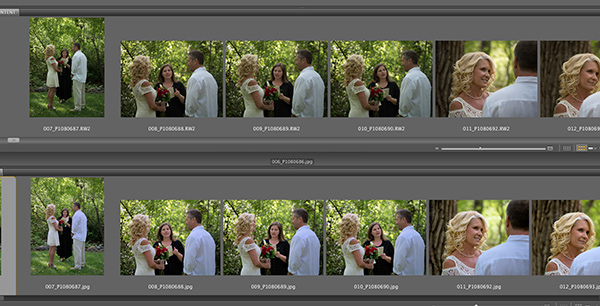 Thumbnail view of two bridge windows of the same images. Top row – unprocessed RAW files. Bottom row – Images after running an action using Perfectly Clear Software. Cleaned up exposures. Smoothed skin tones. Neutralized white balance. Opened up shadows and more.
For today and tomorrow you can pick up this time-saver at 50% off. Sunday night and the price goes back up but after that you can still get it by using code COATES. Cool part is you can get the software right away, try it out for a month and if you don't think it works for you get your money back. Take the time to save some time. Check it out. If you have any questions give me a shout.
Yours in Photography,        Bob