Balloon Flight – Sedona, Arizona
(You might want to scroll down to play the 1967 hit from the Fifth Dimension called Up, Up and Away while you read the rest of this post.)
Imagine floating in Silence. Beautiful red rock vistas spread before you like towering sculptures.
That was the first thing that came to mind as a surprise when I took a balloon flight over the red rocks of Sedona.  Silence only interrupted by the occasional roar of the propane burner to control our height above terra firma. Silence only changed by the occasional comment of a fellow passenger exclaiming about some new deer or rabbit that came into view unaware we were hovering overhead. Gliding over the landscape is an incredible way to experience Sedona.
You can't beat it with a stick!
I was out on a photo 'dawn patrol' with my cameras and fellow Lumix Luminary photographers Suzette Allen & Jon Yoshinaga while they were in town for a visit. We set up for sunrise over the valley and were gifted with the lifting of the hot air balloons. It is always a fun addition to a  shoot when the hot air monoliths pass through the scene as a colorful counterpoint to the scenery.
Here are a couple of the photos I captured of visitors heading off to a sky adventure.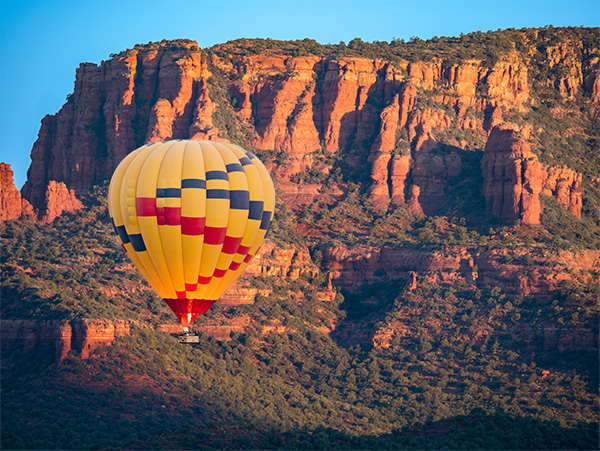 Hot Air Balloon lifts off into the azure blue skies over the red rocks of Sedona. Captured with Lumix G7 with 100-300mm f4.0-5.6 Vario lens @f4.9 1/160th sec 193mm (386mm FF equivalent) ISO200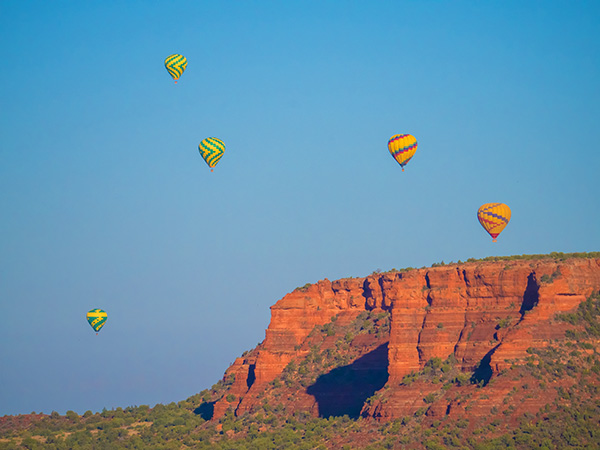 Balloons dot the skies above the Red Rocks. Lumix GX8 with 100-300mm f4.0-5.6 Vario lens @f4.5 1/10000th sec 150mm (300mm FF equivalent) ISO800
Fifth Dimensions' Up, Up and Away
If you'd like to experience floating over Sedona's red rocks on a balloon adventure here are some links to check out. http://www.redrockballoons.com – http://www.northernlightballoons.com
Yours in Creative Photography,     Bob
Save
Save
Save