He was an artist in his own right as a coach. He was an inspiration to his players and all those he came into contact.
John Robert Wooden (October 14, 1910 – June 4, 2010) was an American basketball player and coach. Nicknamed the "Wizard of Westwood," as head coach at UCLA he won ten NCAA national championships in a 12-year period, including an unprecedented seven in a row. Within this period, his teams won a men's basketball-record 88 consecutive games. Wooden's streak of seven consecutive NCAA Championships is even more remarkable and impressive due to the fact that to this day no other coach or school has won the tournament more than two consecutive years.
Wooden was named national coach of the year six times. Read more on coach Wooden on Wikipedia here.
You ask, "Wait a minute Bob! What does a basketball coach have to do with photograph and art?"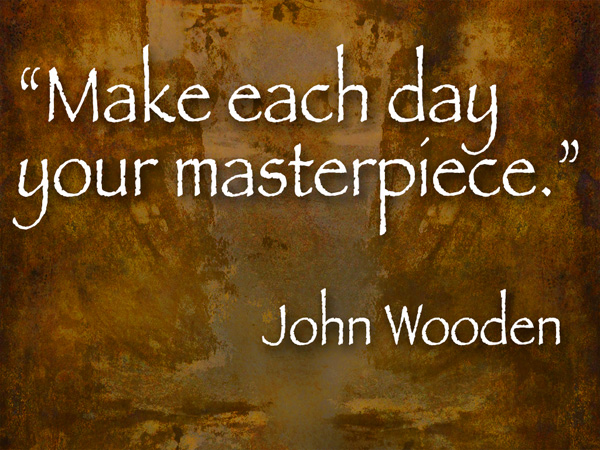 "Make each day your masterpiece."   John Wooden
It has to do with art & photography because Wooden was an incredible motivator and being motivated is an important part of creating great art. Think about how you can stay at the top of your game. That's one reason I keep looking toward short quotes to keep motivation front of mind. Here's a few more from the coach…
"Nothing will work unless you do."
"Success is never final. Failure is never fatal. It's courage that counts."
Look for inspiration in, and out, of photography. It's a big world out there…
Yours in Creative Photography,        Bob