Sarasota, Florida.
Two days.
Intense! But, fun!
We had the Lumix Luminary gathering over the last couple days where we get together and share ideas, techniques and new information about the Lumix cameras and their capabilities. They were long days but very productive. We broke into teams and created some videos together. Video not being my number one priority in my business I learned a lot. Saw quite a few ways to add some value for my stills clients through using video and some new ideas that were introduced.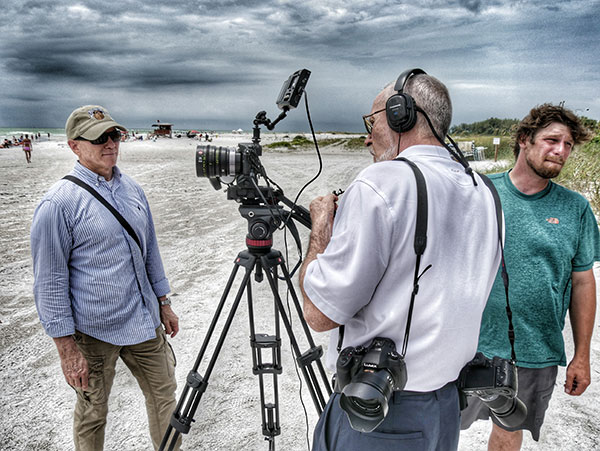 Here we are working on the beach. I'm getting the audio ready for the shoot and Armed with an FZ 1000 on one shoulder and a GH4 on the other. Image capture with the new Lumix G7 f8.0 200 ISO 1/640 sec It was shot by Dan using Tom's G7 and 14-140 lens. He imported into his phone and messed with it using Snapseed. Added an HDR Scape layer and a Drama layer then used the Vertical Perspective under Transform and may have adjusted tone a bit..
(I'll be sharing some work and features shortly from the G7. Pretty powerful camera!)
Sometimes as photographers running a one-man show our world can become a little insulated. Having an intense couple days with colleagues working and sharing ideas can be a great infusion of energy. Even if you can't get together with a group like this I highly recommend at least getting together with a couple photographers and go out and shoot together for a couple hours. Then have a cup of coffee or an adult beverage or two. The relationships that you build doing things like this are wonderful!
Yours in Creative Photography,      Bob