Occasionally I'll send out a digest version of the blog posts on Successful-Photographer. I'm not a fan of Spam and I'm sure you are not. Your Email address is safe with me. Bob

Learn Photoshop in a fun environment. Aaron Nace applies the right amount of fun with easy to understand and follow tutorials. Actions and brushes are included with lessons!

Best embroidery ever. Give Queensboro a try, get a
$20 instant credit
to get started by clicking on the logo! They specialize in great quality custom logo apparel and promotional products with the best customer service.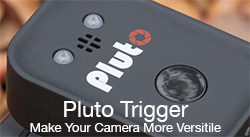 Lightning, waterdroplets, sound, time-lapse, HDR sequences, smiles and much more control for your camera! Cameras Get Smarter - A High Speed Smart Camera Remote
Recent Posts