The Making of
Sound Bites Grill Hall of Fame Image
I've often been asked how I create the art images for the Sound Bites Grill Hall of Fame. Thought I might share the process here from start to finish.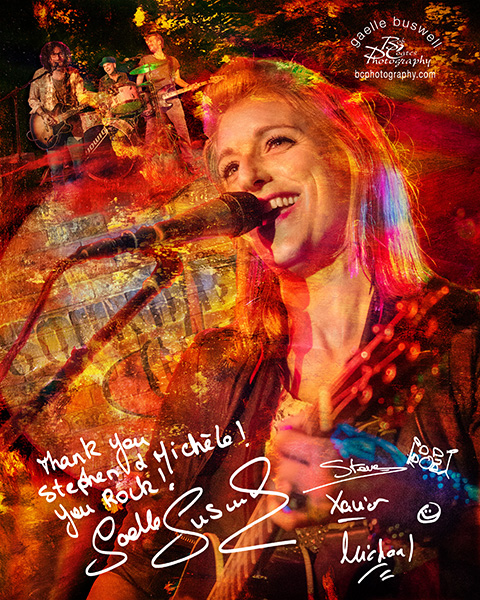 Finished Hall of Fame image with Gaelle Buswell and her band members
First, I make photos from the show during the live performance. This is a bit easier said than done as performers are moving in and out of the light, have strange expressions when they reach for THAT note, etc. I need to watch and learn as each performer works and then make sure I've gotten enough source material on all the band members.
Then it's time to download all the images and begin the culling process. Lots of images get thrown away on the first pass. Then I'll go back through to look for the selects. Those are the photos that have the body position, expression and look I am going for in the final art piece.
The individuals are extracted from their photo and placed upon their own layer so effects such as drop shadows and lighting can be applied individually. Then it's time to start working on combining all the elements of people, texture, drop shadows, color adjustments and more.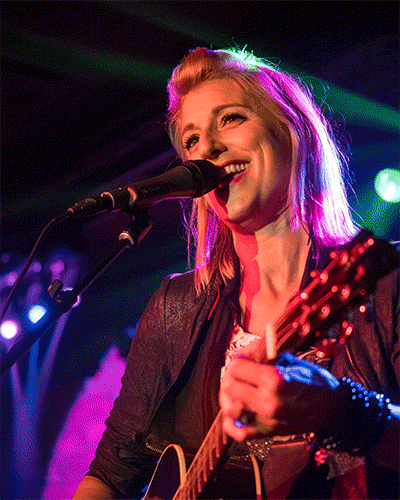 Animated Gif of the various Layers
 Above is a Gif showing most of the Layers made in Photoshop to give you an idea of how the pieces work together during the build. Below is a screen capture of the Layers Palette in Photoshop.

Layers Palette of the Gaelle Hall of Fame image
I'm thrilled with the dynamic range of the Lumix Micro 4/3rds camera gear. The camera is Lumix G9 Panasonic's stills flagship model with the LUMIX G X VARIO LENS, 35-100MM, F2.8 ASPH 
Yours in Creative Photography,       Bob