Studio Photography of a Harp Musician
I enjoy working with creative people. It's a blast. Creative folks tend to bring an extra little something to the photo session. I was working with Sedona musician Peter Sterling the other day. He had some specific thoughts on the session we were photographing for some headshots and CD cover art.
Once an idea is put forward, then it's time to tweak the lighting to create the mood and feeling needed. We started with a high key background then went to a low key background with more dramatic lighting.
One of the first images from the session. * setup described below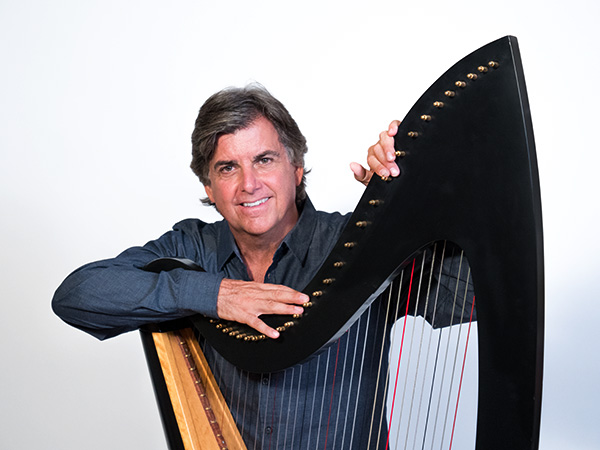 Harpist Peter Sterling
Above and below are unretouched photos on a high key background. Peter was an excellent subject as he made excellent eye contact with the camera and was easy to get relaxed. He made my job pretty easy!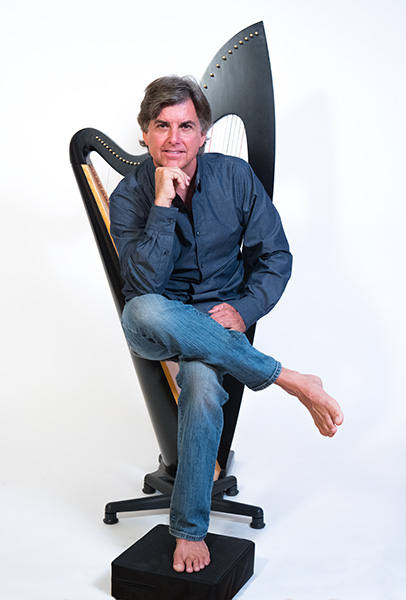 I liked this one as a different look but wasn't thrilled with the foot pad and stool. I wanted to crop in but it has a very casual feel, and it keeps growing on me.
Moved to a black background and worked on a more moody look. Peter asked me to retouch this one, and I like it a lot! ** the setup described below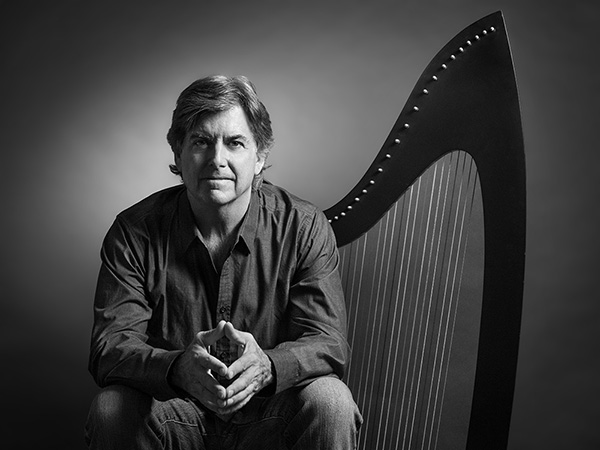 When I do final retouching for artists, I always include a black and white version. This is often way better than sending off a color image and letting the newspaper or magazine do the conversion.
* White seamless backdrop with a Fiilex 360ex Variable LED light with 24×36 inch softbox as main light (camera right) Camera left another light with a smaller softbox used as fill.
** Black seamless backdrop and lights as above but adjusted for more drama. A 5-inch Fiilex Fresnel attachment was added to another light for the background
Images were captured with the Panasonic Lumix G9 and the Leica DG Vario-Elmarit 12-60mm f2.8-4.0 lens and processed in Adobe Photoshop
Yours in Creative Photography,     Bob