Photographing the Night Skies
I was always a little hesitant about photographing the sky after dark. Never could quite make it work out. Either the focus was off, or exposures were wrong, or both!
Then it came time for me to start working on those captures as I was jealous of those who were killing it in the night sky photography showing incredible renditions of the Milky Way.
If you have had the same problems let me share some of the things that have made a difference for me.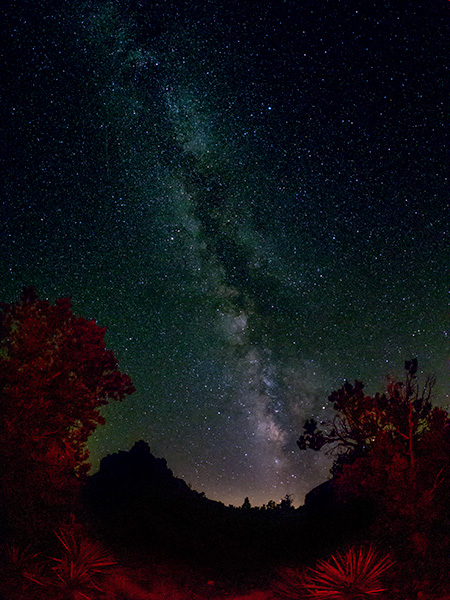 Milky Way photographed at Bell Rock, Sedona, AZ Lumix G 8MM Fisheye f 3.5 lens
The focus was often a problem for me. Couldn't quite get the hang of not being able to see my subject in the dark. Either the foreground was out of focus, or the stars were less than stellar until I put in the time and did some serious testing. Using Panasonic's Lumix cameras has given me a perfect way to set focus and know I am going to get solid detail throughout the image. It's quite simple and no need to be on scene before dark to get focus. Yay! See the capture of the back of the camera below.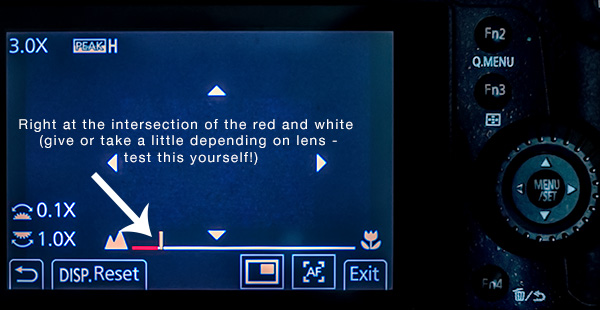 Camera back of the GH5 showing the Manual – Mode focus screen
To get this view set your camera or lens to manual focus mode and touch the focus ring. The assist will give a small 10X magnified view. You won't need this. Bring your attention to the bar across the bottom. There is a white line that goes from macro to mountain. Just before it gets to the mountain you'll see a red bar. That's the sweet spot. Set your focus right in the notch between the red and white portions of the stripe. Done! Test this for yourself.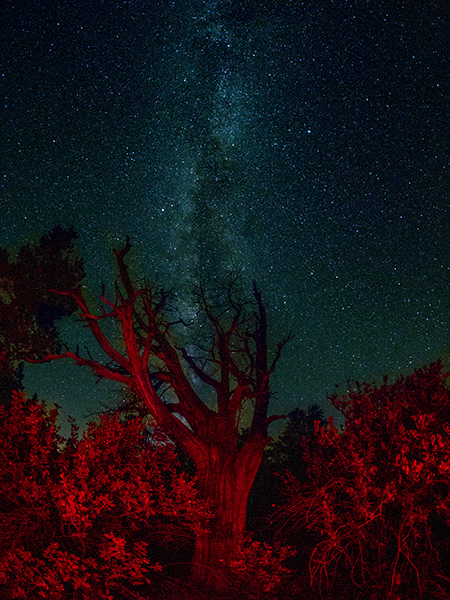 Milky Way with Juniper, Sedona, AZ Lumix G 8MM Fisheye f 3.5 lens
The other important piece of the puzzle is to use the fastest lens available. Having a very wide aperture allows the sensor to be exposed to the most light allowing for lower ISO settings.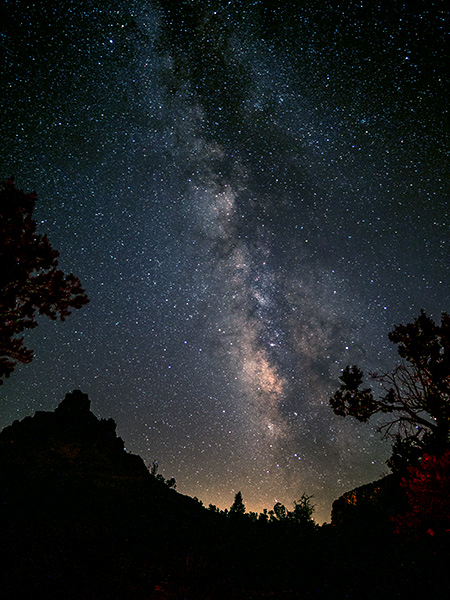 Bell Rock in silhouette to the left with the Milky Way, Sedona, AZ with 12mm Leica DG Summilux f1.4 lens
Images were captured with the Lumix GH5 camera. Lenses listed above.
In another post I'll share some ideas on post, processing using Adobe's Photoshop to get the most out of your captures.
Yours in Creative Photography,     Bob